Shutters
A number of eateries closed their doors in 2012. We said goodbye to stalwarts like Kinkead's, Four Fields, Armand's Chicago Pizzeria, Foong Lin, Citronelle, and Tragara, as well as newer faces such as America Eats Tavern, Zola, Potenza, Buddha Bar, Hudson, the Cajun Experience, Casa Nonna, Market Tavern, Michel, Restaurant 3, both locations of Againn (after "deliberation"), and a whole slew of Georgetown establishments. Some, like PS 7's, were reluctantly outed—City Paper sleuth Jessica Sidman caught news of the closure in a just-released cookbook—while others went out with a bang, like that time we watched out our office windows at armed US marshals escorted the juicers out of Java Green.
Shuffles
You know those restaurant industry folks—from the top down, they all love to move around. Matchbox Food Group co-owner Perry Smith parted ways with the company, we learned from Eater DC), while Tom Sietsema broke the news that Eric "the Ripper" Ripert is splitting with the Ritz-Carlton in January, just months after bringing on new chef Devin Bozkaya at Westend Bistro.
Restaurateur Ashok Bajaj shuffled chefs within his empire this year, and Ed Witt departed 701 for a stint at permanent pop-up Hogo, according to Young & Hungry. Bistrot Le Zinc gained its third head chef since opening when Herbert Kerschbaumer stepped in for Janis McLean, while over in Maryland, Quench lost two of its starting "leaders." Sadly Ron Tanaka is out at New Heights, but happily he's partnering with Maple bartender Sherman Golden on a new Shaw bistro.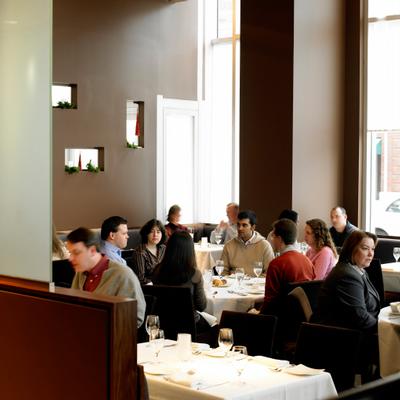 Bar hops include Jon Harris's move from the Gibson to Firefly, with a stop at Shaw's Tavern along the way. Shaw's was also home to former Bistro Bohem-er Mark Reyburn for a hot minute; he's now posted up at Elisir in Penn Quarter. Kat Bangs left Komi, and Gina Chersevani split with PS 7's after a disagreement with "PS" himself. She's now doing wondrous things with frozen Jameson and working with her business partner Jamie Leeds to bring knishes to Union Market bar Buffalo & Bergen.
Transformations
This year, Washington restaurants underwent more extreme makeovers than guests on What Not to Wear. Nautically themed, Hilton brother-owned BlackByrd morphed into a Vietnamese pho joint, Fruit Bat shed its wings and became an '80s-inspired arcade (just don't call it Barcade), and the still-dark Toledo Lounge has yet to become whatever it's secretly planning to become. Two of the biggest transformations: the casual-ization of 2941 and Teatro Goldoni, which Real Estate Bisnow reported is set to become Look, the District's first Icelandic eatery.
Dial 911 . . .
No, we're not talking about the crime that is molecularly mastered food "dirt." Several eateries were linked to criminal activity this year, including a threat by an armed gunman at Breugger's Bagels; pistol whipping at Pret; insidious insiders (Clyde's Restaurant Group); assault-prone owners (Serendipity 3); carryout cocaine (D.C. Fish Carryout, via Young & Hungry); and one truly sad story in which a chef killed his cat. In more lighthearted malfeasance, 1789 toque Anthony Lombardo shared a Valentine's Day proposal turned robbery, and Eater DC continues its semi-regular feature "Shit People Steal."
Tweet-Offs
Oh, the trash that can be talked in 140 characters or less. One of the more entertaining sparring matches went down when Washington Post food reporter Tim Carman arrived in the line of fire between outspoken BaoHaus owner Eddie Huang and outspoken memoir writer Marcus Samuelsson. The Post also took some concisely worded heat from chefs burned by reviews, including two documented by Eater DC: Mike Isabella and José Andrés. Then there was the shakeup between local food writers Jessica Sidman and David Hagedorn concerning Sidman's aforementioned PS 7's closure-rumor reporting, which Hagedorn deemed unseemly. Our favorite, though, is from left field: mayor Vincent Gray took on Chick-fil-A's anti-gay stance by coining the hash-phrase #hatechicken.
Mouth-Offs
Others fell back on good ol' spoken word to voice controversial sentiments. Former White House pastry chef Roland Mesnier dished openly about Bill Clinton's "scary" appetite. Jeff Black managed to send food bloggers into a bloggerage with a seemingly anti-Internet-writer comment at the RAMMY awards, only to spawn two consequent T-shirt slogans. Typically loved-by-all fried chicken and doughnuts received its moment of controversy when Seasonal Pantry chef Dan O'Brien expressed, shall we say, unhappiness with Eater DC about the Neighborhood Restaurant Group pursuing a restaurant theme around the dish. On the other hand, never underestimate the power of a single Facebook photo. Marcel's didn't win any fans when it boasted/outed diners about a $32,000-plus meal by posting a picture of the receipt.
Feisty Over Food Trucks
The tension between mobile vendors and local government continues into 2012, with the food trucks fighting for their street turf on both sides of the river in Virginia and the District. ArlNow documented coordinated efforts by Arlington law enforcement to ticket trucks, and obtained an internal memo from the Rosslyn BID outlining ways to limit their activity. Over in DC, Tim Carman reported that more than 1,000 pro-food truck comments went missing after the public was asked to comment on new proposed regulations. As fans of meals on wheels, we hope a resolution can be reached in 2013.
Water-Gate
Who knew H2O could be so controversial? Elisir found itself in turbulent waters back in 2011 as diners/people of the Internet lambasted the restaurant over a 29-cent surcharged for filtered water. So as a New Year's gift, chef-owner Enzo Fargione changed the policy to an "a-la-carte bottle water charge of $3.95." Still facing backlash, he switched again to a complimentary hydration program. Just don't get us started on the bread.
Trouble en Paradis
Few big-time restaurateurs had it harder in Washington this year than Michel Richard. The much-loved toque closed Michel in the Tysons Ritz-Carlton in February after less than two years—though on the plus side, he announced three new concepts in Atlantic City at the same time—and then lost Citronelle in July, apparently due to water damage (amongst other speculations). In between he found himself in the meaty mess that was his—or was it?—fast-casual restaurant, Meatballs, which died an orphan in June. Let's hope 2013 is better for Monsieur Michel.
And the Story That Just Won't Die . . .
You know Roberto Donna, Italian cooking legend turned tax evader. He landed at the top of our Dining World Dramas list last year for all the hoopla around the closure of Galileo III, and is back again this year, albeit in a less direct manner. Although Donna was explicitly sentenced to the kitchen of his new restaurant home, the eatery was plagued with controversy from the start: a ripped-off logo that Eater noticed; an eventual name-change to Al Dente after Adams Morgan bistro La Fourchette forked over a letter complaining about similarities in the titles; and a controversial Chef of the Year win for Donna from Esquire's John Mariani. And that's all apart from the massive debt he owes and the embarrassing website Robert Donna Bailout. Mama mia, chef Donna. What have you got planned for '13?
You might also like: