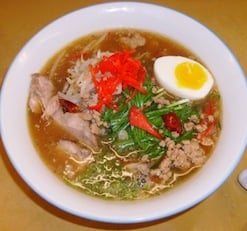 The end of the world does not seem to have arrived, but Sushi Taro is celebrating anyway with a special doomsday edition of its highly coveted lunchtime noodle soup special.
Head to the restaurant at 17th and P streets, Northwest, for a chance to try spicy tonkotsu ramen. Sushi Taro opened for lunch at 11:30 and will dole out the 20 orders of ramen on a first come, first served basis.
For more on local ramen offerings, consult Ann Limpert's excellent roundup. We also recently corralled a few Mayan Apocalypse specials for your end-of-days enjoyment. Meanwhile on Twitter, we are sharing last meal picks from our followers—including Mom's rigatoni and dine-and-dash feasts at the Inn at Little Washington and Komi.