Driving Ronald Reagan
Joe LaSorsa, a retired Secret Service agent, drove the
presidential limousine for Reagan in 1984.
When you're driving a 13,000-pound armored vehicle, there's a
slew of idiosyncrasies. The bulletproof windows are made of thick glass,
and you have to get used to the depth distortion when you're looking
through it. You can get bleary-eyed, but you get used to it. Then there's
the weight factor. You have to learn what speed you can take a corner to
make it comfortable for the President so he isn't sliding around in the
back.
There's no chatting in the limo. If the President wants
something, he talks to the detail leader, who sits in the right front
seat. As the driver, you're part of the evacuation team should something
happen. So you need to be ready to get the President to safety should
someone start shooting.
When I drove for Reagan, there was a lot of routine travel in
Washington. You have routes that you run consistently—to a hotel, the
Capitol. But when the President visits another city, we go four, five,
even six days in advance. We drive the routes he'll use and look for
construction, obstructions, potential security issues. His motorcade
affects a city's traffic, so the local police always have input. The day
before the President arrives, we drive the routes two or three times. The
Secret Service prides itself on keeping the President on time.
—As told to Shane Harris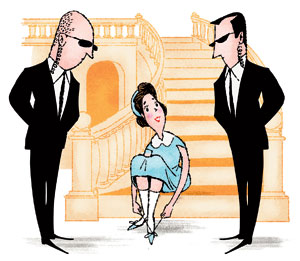 Living in the Johnson White House
Lynda Bird Johnson Robb is a daughter of former President
Lyndon Baines Johnson.
I moved into the White House in January 1964, when I was 19. I
had a wonderful room, the one Caroline Kennedy had lived in, overlooking
Pennsylvania Avenue. I wanted to find out all the famous people who had
stayed in my room, so I started asking everyone, even President
Eisenhower, who was visiting Daddy one day. He said, "I think Queen
Elizabeth's lady-in-waiting stayed in that room."
I was looking for somebody more important, so I kept
researching. I found out that little Willie Lincoln died in that room and
then the Lincolns locked it up, never to go in it again. The White House
curator also told me that after President Lincoln died, my room was where
they performed the autopsy. After that, I didn't want to learn anything
more.
I was friends with the Secret Service. They are around you on
eight-hour shifts, three people to a shift. I would call down and say, "I
want to go to a bookstore," and they would go with me. They liked me
because I also liked to go to football games. I never appreciated enough
that I didn't have to drive or find a place to park. That was one of the
nicest things.
That and the White House operators. They could find anybody.
Literally. We would say, "Could you please get so-and-so on the phone for
me?" and they would track her down, wherever she was.
I didn't leave anything behind when I moved out. No carved
initials, no secret messages. But when my firstborn, Lucinda, was a baby,
I pushed her buggy through all the rooms and took pictures so she would
have a memory of her time there.
—As told to Carol Ross Joynt
Getting a Pardon From George W. Bush
Leslie Collier is a farmer just outside Charleston,
Missouri.
It was November 2008.
I work at a cattle sale in Patton, Missouri, every Monday, and
we were sorting a big herd of cattle when my cell phone rang. It was the
White House. A lady informed me that I had been pardoned by President
Bush. It was quite a shock.
A buddy of mine was helping me sort the cattle. He looked at me
and said, "What was all that about?" I said, "I just got a presidential
pardon." He said, "You got a presidential what?"
The pardon was for an eagle-poisoning incident in 1993. We had
lots of coyotes, and I came up with the bright idea to get rid of some of
them. I put out poison, and it did kill a bunch of coyotes. I didn't
realize that if another animal eats one that's been poisoned, it'll die
too. Never really thought about bald eagles. Hadn't seen any over there.
But some eagles ate the dead coyotes. The first one was found by a guy
fishing on the Mississippi River. A few days went by, they found another
one.
A local conservation agent called and told me they'd found a
dead eagle. I was very concerned. I always liked bald eagles. When I was a
little ol' kid, we'd go over on the Mississippi River and it was really
unusual to see a bald eagle. When you did, man, you thought it was
something.
For a while, it looked like they were going to put me in jail.
In the end, I paid a big fine and was on two years' probation. If you're a
convicted felon, you're banned from owning a firearm for life. I probably
had nine or ten guns at the time. My dad had to come get them.
Lanie Black was my state representative. I've known Lanie for
several years. He knew what kind of person I was and that I regretted what
I'd done. He worked with Jo Ann Emerson, who's our congresslady. Catherine
Hanaway—she kind of ran George Bush's campaign in the state of
Missouri—she was involved toward the end. She called Lanie and said, "I
just want to know what kind of fellow this guy is. Tell me all about him."
And so Lanie did. And she told him, "Well, it looks like this thing's
gonna happen for y'all."
To me, what was really unusual is President Bush had absolutely
nothing to gain by pardoning me. Right after it happened, a reporter
called and wanted to know what my political connection was. I said, "I
started with my state representative."
She said, "That's not very close to the President."
I said,"Well, no, ma'am."
—As told to Libby Copeland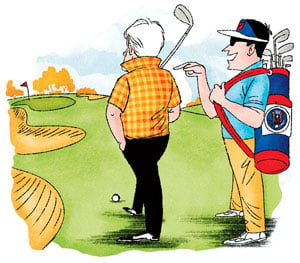 Caddying for Bill Clinton
James D. Spaid was a caddy at Robert Trent Jones golf club
in Gainesville, Virginia, from 1992 to 2003.
I took a job as a caddy as a stopgap after ending my military
career. I was relatively new to the club when President Clinton first
came.
I didn't know how it would go because, honestly, I didn't vote
for the guy. But I can't say I was nervous. In the '80s, I had been
assigned to the Presidential Escort—for Ronald Reagan and then George
Bush—so I was used to being near the President.
Still, nothing that's required of you in the Presidential
Escort is conducive to a good round of golf. The formality and the tension
don't work—golf is supposed to be a time to relax. In the Presidential
Escort I couldn't stand at ease, joke around, or say anything but "Yes
sir, Mr. President, sir."
Our first round together was uneventful. It's the second time
that sticks in my head. It had been several weeks since the first, but he
walked up like we were old friends. He's putting his arm around me,
pulling me in close, and I'm trying not to let on that I'm uncomfortable.
And then he says, "James, how is your son Zach doing? He must be what—just
over eight months now?" He was right, down to the week, and I was so
surprised that he remembered my name, much less my son's. I always say
that if you want to get to know somebody, you take him out on the golf
course. What I learned about President Clinton was that he was very
generous and kind.
—As told to Mary Yarrison
Impersonating Barack Obama
Louis Ortiz, 41, performs with a troop of political
impersonators called the Politicos Comedy Brigade.
Nobody needed hope and change more than I did in 2008. After I
lost my job as a phone technician, I was sleeping on my parents' couch.
But then a funny thing happened: People started telling me I looked like
presidential candidate Barack Obama. I didn't notice the resemblance at
first—I thought people were just making fun of my big ears. But once I
shaved my facial hair, I could see America's future 44th President in the
mirror.
I learned that presidential look-alikes can make decent money.
So I bought my first suit, had headshots taken, and found a talent agent.
After Obama was elected, my phone started ringing. I played Obama in a
South Korean commercial and a Japanese film. I even performed for the
Dalai Lama in Australia.
Looking like Obama is easy, but it takes practice to
impersonate him. I studied his speeches and worked with veteran Bill
Clinton impersonator Tim Watters. Now I can make as much as $10,000 for a
single event, which allows me to support my fiancée and two children in
Florida the way I never could before the 2008 election.
The funny thing is how many people treat me like I really am
the President. After Osama bin Laden was killed, people were high-fiving
me on the street. But I also get criticized for Obamacare.
I don't care what John Boehner says, President Obama is
definitely a job creator. I'm living proof.
—As told to Luke Mullins
This article appears in the January 2013 issue of The Washingtonian.