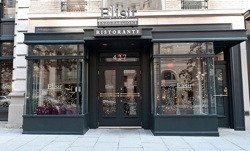 Less than two months after his gig began, mixologist Mark Reyburn is no long working at Elisir, the bartender confirmed to us on Thursday.
Reyburn came to Elisir after a short stint at Shaw's Tavern. Before that he was in charge of drinks at Bistro Bohem.
The
parting of ways took place around New Year's Eve, according to Reyburn,
who says he tended bar at an event unrelated to Elisir on December 31,
though he was still employed at chef Enzo Fargione's Penn Quarter Italian restaurant at the time.
The
Birmingham, Alabama, native began working at the restaurant around
Thanksgiving. He says Fargione asked him to
create nine original cocktails; the new list debuted in early December.
On December 11, the restaurant showcased Reyburn's winter cocktail
menu—featuring ingredients such as mint ice cubes, basil spheres, and
chocolate-bacon-infused bourbon—at a special media
event. (Fun fact: According to K Street Magazine, actor Laurence Fishburne visited the restaurant that same night.)
Elisir
has always looked to create an elaborate bar program. When the
restaurant opened in November 2011, it debuted a whimsical cocktail
menu—smoked cherries, Campari marshmallows—designed by original
bartender Steve Oshana, now at BLT Steak.
Reyburn
says he has a new project in the works but would not share details as
the arrangement had not been finalized. He did offer more details surrounding his departure; we have a call in with the
restaurant for comment on those along with future plans for the bar.
Check back here for updates.