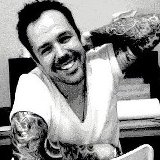 As was first reported by the City Paper back in October, Aaron Silverman, who has worked in kitchens in New York City (including Aldea and Momofuku Noodle Bar), Charleston, South Carolina (Sean Brock's famed McCrady's), and Falls Church, Virginia (2941), is opening a new restaurant called Rose's Luxury at 717 Eighth Street, Southeast.
It's his first, but the Washington-area native has enjoyed help from some experienced locals: The trio behind local chain Cava—Silverman's longtime friends—are serving as unofficial consultants on the project, helping him navigate challenges such as construction delays, legal red tape, and all those unforeseen costs that come with opening a restaurant.
Another bestie, Konstantine Troupos—a gregarious Cava alum whom Silverman calls "the mayor of Rockville"—is a partner in the project and will serve as Rose's general manager. Cocktail consultant Glendon Hartley has been working with him on the drinks menu—beverages will be straightforward and tasty without being overwrought, says Silverman.
The two-level restaurant will feature a $46, five-course menu downstairs. At the upstairs bar, diners can opt for bar snacks or à-la-carte selections from the main menu. In the back section of the space, a communal table will host one party nightly—each person will pay about $90, and Silverman and staff will ply them with food and wine until they say uncle. While the main menu culminates in a family-style meat course, vegetarian dishes and substitutions have been built into the plan.
Pop-ups at Silverman's Capitol Hill home have featured dishes such as popcorn soup; spicy pork and lychee with crispy garlic; caramelized cauliflower with Greek yogurt, raisin purée, and speck; and a ramen riff that shows off his noodle pedigree. These are served on mismatched grandma-chic china, and the restaurant will also feature photographs and other art created by friends. Look for it to open this spring.
Read on for a Q&A with Silverman about all things Rose's Luxury.
How did you come up with the $46, five-course concept?
I wanted people to be able to try a bunch of things, but I also didn't want it to be a tasting menu where you sit down, things are coursed out, and it's kind of a to-do.
There are five different courses on the menu: There's a cold, there's a grill, there's a pasta. . . . Every course has a bunch of options, and you can order whatever you want. Everyone will get their own dish for the first four courses, and then the fifth one is a family-style meat course, so it'll be a much bigger portion. We wanted to give people decent-size plates so you could actually have enough to share if you want—if you're four people, and you're having five courses each, you can have the entire menu.
It also gave us freedom to not really have soup, salad, etc. . . . If one week we don't want to do pasta, we want to do egg dishes, we can add an egg section.
And dessert is separate?
We don't want to force anyone into dessert. To us, they are just as important as the rest of the meal. We like to keep our desserts from being over-the-top fatty and sugary, and more on the mildly sweet and refreshing side (no bacon-glazed-doughnut-sundae fritters).
One of my favorites we're working on is a dish with saffron-coconut ice cream and burnt coconut crumbled over the top. The ice cream is extremely floral, refreshing, and mildly sweet, while the burnt coconut on top is crunchy and bitter. It's extremely refreshing to eat as a whole, and very complex for only having two ingredients.
That being said, we also have a Ritz cracker, apple, and cheddar dessert that people love, which—full disclosure—probably goes against everything I just described. But whatever, it's delicious.
Take us on a virtual tour of the restaurant.
On the bottom floor, as you walk in there's a little hostess stand/entryway. You get into the dining room, and there's about five tables. Then you see the kitchen—it's open, and it has about eight seats facing it, so you can eat at the counter there. You go past the kitchen, and now you're outdoors. There's an interior courtyard with another ten seats, and there's a garden bar that seats about seven. As you go through the courtyard, you get to the garage, which has one big family-style table in it.
There is a second floor [with] a bar so that if people show up and there's a 40-minute wait, there's somewhere to hang out. There are about 11 seats upstairs and another little private room where you can hang out. It'll hold about 25 people, max.
Did you think about taking reservations?
Reservations are really tricky for such a small restaurant, because someone shows up late because of traffic and it's not their fault, but then the next person's pissed because they made their reservation. Well, you can't kick [the first] guy out! It is definitely not conducive to making people happy. It still sucks if you show up and it's an hour-and-a-half wait, but it beats planning in advance and then being screwed.
But people can reserve the communal table in the back.
We will take reservations for the eight-top. There will be one seating a night. It's going to be all family style, and we'll serve whatever is delicious that week or that day. No number of courses. We'll just send out food until the table says stop. Same thing with wine.
What inspired that idea?
I was in New York last year for my birthday with eight friends, and we sat down at this little pasta restaurant called Porsena. It was $70, and they just poured us wine and fed us pasta until we were full. It's so much fun to eat like that.
How do you describe the food you cook?
The short answer is that we cook the food we like to eat. Typically we do riffs on classic dishes, or take unusual combinations and make them more approachable.
Bottom line, though, is that our food is meant to be delicious and make you feel good. We're not trying to put on a performance here, we're just trying to feed people dinner.
You're starting with dinner six nights a week (the restaurant will be closed Sunday). Any plans for brunch, breakfast, or lunch?
We're in the making-people-happy business, and that includes ourselves. If we're doing well, I know we'll be happier with just dinner. That's not to say there isn't a market for it, or that it wouldn't be awesome to have a lunch place down the street in the future. But it just seems silly to work ourselves, and the building, into the ground, at least for now. We'll see what happens.
Anyway, there's plenty of brunch on the street. I enjoy my eggs and bacon at Ted's Bulletin, and I don't want to give that up.< /p>
Why Capitol Hill?
First of all, I love, love, love Capitol Hill. I live only a block from the restaurant, and everything about this neighborhood is fantastic. It's beautiful, the neighbors are super friendly, we have awesome community gardens, Eastern Market, etc. I freaking love it here. Hidden behind the Capitol I feel like it's our own little oasis in the city.
We looked at a lot of locations and happened to walk by this spot for lease in my neighborhood and knew immediately that it was for us. It's a mix of old and new, and it's very charming, which lends itself directly to our aesthetic style.
You've done a series of popular pop-ups as you've developed the menu. What's next?
We are planning a collaboration/guest-chef series/whatever-you-wanna-call-it with the guys from Hogo. They were kind enough to invite us to cook nightly there for two weeks. So anyone can come check us out there when we set up shop in March.