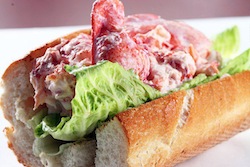 You know Jetties. It is that upper Georgetown institution where the sandwiches and salads boast Nantucket-themed names and patrons don Nantucket-appropriate clothes.
Now downtown dwellers can get a taste of New England beach life with the opening of a new shop at 1921 I Street, Northwest, owner Bo Blair's fourth branch in Washington.
The Georgetown Events founder—who's also behind popular concepts such as Surfside, Smith Point, and the Bullpen—has opted not to mess with a successful model, as evidenced by the new spot's familiar menu. It features favorites such as Thanksgiving carved turkey sandwiches, classic lobster rolls, and Gifford's ice cream cones.
The grand debut happens Wednesday at 11 AM, and those who sign up for the Georgetown Events mailing list can receive weekly deals like a coupon for a buy one, get one free sandwich or salad. Also good news for the many offices and GWU departments in the area: The I Street shop will emphasize catering for lunch and dinner.
Jetties. 1921 I Street, NW. 202-380-9272. Monday to Friday, 11 to 8:30, Saturday and Sunday, 11 to 3.