Get excited, blowout fanatics: There's a new place for you in town.
Flow Blowout and Beauty Bar,
the newest blowout-only salon
in Washington, opened its doors last week in Reston. With a
bargain rate of $35 and
the bonus of makeup and threading services, Flow provides
another great option besides
our current favorite, Drybar,
as our go-to blowout spot.
Owner and fashion designer Samira Atash, who worked in New York City for a decade, says she couldn't find a
good blowout close to home when she moved back to Virginia. "I've been blowing out
my hair for so long, and when I came to Northern Virginia, I really couldn't find
a place to get it done," she says. "So I said, 'You know what, I'm going to open one.'"
And she did—right in her own neighborhood. With its retro floral decor and bubblegum-pink
walls, Flow is ultra-girly and inviting, as is its Teddi Cranford-trained
staff. There are eight "flowout" styles on the menu, including Willowy (smooth and
sleek), Calypso (loose beach waves), and Wispy (especially for women with bangs).
The stylists use MoroccanOil and Kevin Murphy hair products, while Vapour products
line the makeup station.
We opted for the signature straight-with-body blowout, the Flow.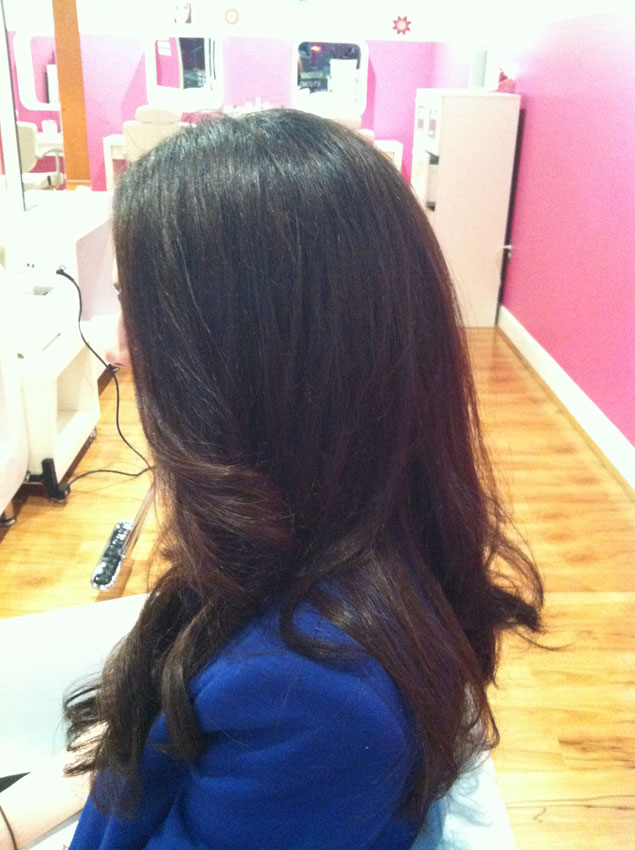 What do you think? Not bad, in our opinion.
Flow is located at 11700 Plaza America Drive, just off the Dulles Toll Road. There's
no sign yet on the storefront, so it might be difficult to find the salon for a few
days—just look for the space with bright lights and lots of pink.