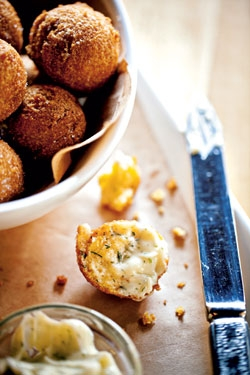 If you've had them, you understand. The hushpuppies at Food Wine & Co.—accompanied
by honey butter because, no, actually, they're not decadent enough on their own—are
freaking fantastic.
To tell you the truth, I don't even really like hushpuppies that much, but
these. These are a genre redeemer—it's the textures, the sweetness, the just-right amount
of salt. It's also the honey butter. The 4 to 6 happy hour at the restaurant where,
my coworker
Ann Limpert once wrote,
it's always best to "focus on the fryer," is a siren song of discount booze and crispy-carb
goodness. Because in addition to the pups there are absurdly large tater tots stuffed
with cheese. Again, here, we have a thing whose name does not do it justice. These
are not the tots Napoleon Dynamite collected in his pockets. These are giant, gooey,
golden gods of deep-fried deliciousness. And they are only
almost as good as the hushpuppies.
But last fall, something insane happened. Food Wine & Co. took chef
Michael Harr's pups off the menu. Just like that, they disappeared in a puff of greasy smoke.
Inevitably, dismay followed, but now the restaurant has lauched a publicity campaign
that could bring back the fried balls. The idea is this: If 50 people retweet the restaurant with the hashtag #savethehushpuppies and/or share a related status
update on Facebook, the restaurant will reinstate
the hushpuppies on the menu for good AND will offer orders of them FOR FREE during
an upcoming happy hour (4 to 6 PM, date TBD). So, yeah, it's a big publicity campaign
for the restaurant. But also: FREE ORDERS OF THE WORLD'S BEST HUSHPUPPIES.