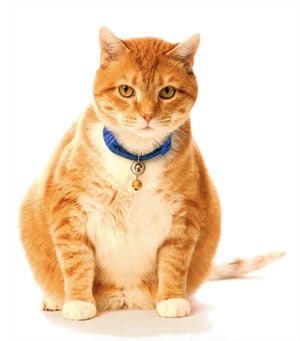 Every time Megan Hills took her dog Brindal for a walk, the five-year-old, 74-pound English bulldog dug in her paws, plopped down, and refused to get up. "You almost had to drag her," says Hills.
Brindal's veterinarian explained that due to the bulldog's excess weight, her tail had started growing into her body, making walking painful. The tail got fixed through surgery, but Hills was still left with an obese pup who had trouble breathing and weighed 20 pounds more than her companion bulldog, Sammie.
Brindal wasn't alone. More than 88 million US pets are overweight or obese, according to a 2012 study by the Association for Pet Obesity Prevention. Even more troubling is that 22 percent of dog owners and 15 percent of cat owners don't realize their pets are fat. Plump pets are at risk for a number of illnesses, including diabetes as well as joint, heart, and feline urinary-tract diseases.
The simplest way to determine if pets are overweight is to observe them from above. From that perspective, a healthy-size dog or cat should have a clearly defined waist.
Fortunately for Brindal, her owner took action before serious health complications could end her young life. Hills began feeding Brindal a vet-recommended low-calorie diet of green beans mixed with kibble and air-popped popcorn, and she started taking her on hour-long walks. Two years later, Brindal has dropped ten pounds, now weighing in at 64, which puts her in the ideal range for her breed.
The prognosis for Emmitt, a 20-pound orange tabby, was bleak. "If Emmitt doesn't shed the weight," his vet told owner Sean Prichard, "he'll develop diabetes and die in a few years."
"I realized then how negligent I was being with his health," Prichard says. He went so far as to babyproof his home, preventing Emmitt from getting into cabinets and sneaking extra food. He leash-trained the cat so they could go on walks. Three years later, Emmitt had slimmed down to 11 pounds, having shed almost half his weight.
Prichard was so inspired by his pet's success that he quit his job as a communications manager and started DC-based Pant & Wag, a fitness-training business for dogs.
One of the tougher workouts for Prichard's canine clients includes a hike up and down a steep hill in Rock Creek Park and a run back to the starting point. The dogs repeat this circuit as many times as they can in an hour while taking turns wearing a weight on their backs.
"I think of myself as a personal trainer and these dogs as humans," Prichard says. "Dogs especially are social creatures, and a lot of them were born to be outside hunting and working. In a city environment, that's hard to do."
While it's easy for dogs to exercise, letting cats run loose outdoors usually isn't a viable option. Dr. Sarah Bowman of CityPaws Animal Hospital in DC's Logan Circle recommends putting multiple litter pans on different levels or in various areas around the house. "That way, the cat is encouraged to move up and down," she says.
Bowman advises owners to portion cats' meals rather than leaving a full bowl available all day. Toys can help, too. "A laser pointer works really well," she says. "It looks like an insect on the wall and gets cats moving."
Once the pounds are shed, owners have to help animals keep the weight off.
Emmitt has maintained his healthy figure for ten years, but Prichard recently found him in a cupboard licking the remnants off a bottle of olive oil: "I guess that's just another cabinet I'm going to have to babyproof."
This article appears in the February 2013 issue of The Washingtonian.