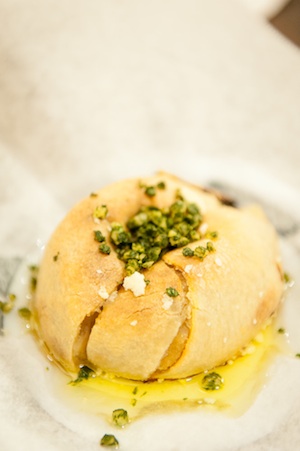 With DC Meat Week safely behind us, we're now well into DC Meat-Free Week—check out lots of coverage over on the Well+Being Blog. In honor of the occasion, we've rounded up ten vegetarian-friendly—and very tasty—dishes at new restaurants. Enjoy.
1) Cauliflower with golden raisins and za'atar at Range.
Giving Mike Isabella's famed cauliflower at Graffiato a run for its money is this dish from Bryan Voltaggio's new restaurant. Florets get a sweet hit from golden raisins and some earthy intensity by way of za'atar, an herb blend common in Persian cuisine.
2) Heirloom carrot salad at Woodward Table.
This salad at Jeffrey Buben's new spot—combining heirloom carrots, orange slices, arugula, honey-coriander vinaigrette, and spiced hazelnuts—is a really satisfying winter starter.
3) Broccoli rabe flatbread at Woodward Table.
Follow up that salad with this rabe-bedecked, wood-fired
flatbread, also topped with charred red
onion, tomato fondue, fresh mozzarella, and basil.
4) Roasted mushroom crepes at Ambar.
This creamy, flavor-rich dish shows off the skill of Bojan Bocvarov, the Serbian chef at this new Barracks Row restaurant. He takes a Balkan comfort food and lends it a little culinary flair with paper-thin pancakes and lots of woodsy, wild 'shroom flavors.
5) Potato-onion knish at Buffalo and Bergen.
Our favorite knish at the Union Market soda fountain may be stuffed with short rib (and served with chimichurri for dipping), but for a meatless snack, you could do a lot worse than the classic version of this deli favorite, filled with potato and sweet onion. Opt for the 50-cent "turnpike" upgrade—butter, garlic, and parsley—and try it with a bourbon-spiked Big O, an ice cream soda flavored with orange-sassafras syrup.
6) Potato latkes at DGS Delicatessen.
Admittedly, a menu where "tongue" is listed among ingredients in the beet salad doesn't exactly scream "vegetarian-friendly," but the new deli-inspired Dupont restaurant does make one of our favorite meatless Jewish-cuisine indulgences: potato latkes. You'll find them served with crème fraîche and house-made apple preserves.
7) Ice cream cake of the day at Farmers Fishers Bakers.
Remember the Carvel cakes with the layer of Oreo cookie you loved as a kid? Picture a version of that with home-made ice cream and without the multi-color icing. You can burn off the calories ice-skating at the new waterfront rink afterward.
8) Elote callejero at El Chucho.
Corn on the cob gets the Mexican-street-food treatment at this narrow restaurant in Columbia Heights from the owner of Jackie's. Think crema, queso fresco, and a good amount of char from the grill. Unforgettable.
9) Pretzel bites at Trademark Drink and Eat.
This new Alexandria spot serves up the perfect snack to pair with beer and bracing drinks. They are served with two dips—chipotle cheese, and maple, apple, and onion mustard.
10) Queso fundido at Fuego Cocina y Tequileria.
A baked cheese blend arrives in a skillet with fresh corn tortillas—just be sure to order it sin chorizo at the Passion Food Group's new Clarendon hangout.