MARYLAND
David Orta, a trial lawyer and arbitration
advocate, bought a six-bedroom, seven-bath Colonial in Potomac's Great
Falls Estates. The $2.4-million house has an outdoor pool, a tennis court,
and a hot tub. Orta is a partner at Quinn Emanuel Urquhart &
Sullivan.
Management consultant Jamie Hechinger bought a
five-bedroom, four-bath house in Chevy Chase for $2.2 million. Built in
1927, it has a front porch, a large back deck, dual staircases, and a
butler's pantry. Hechinger, a former Atlantic Media Company associate
director, works at Russell Reynolds Associates recruiting nonprofit and
health-care executives.
Pharmaceutical executive Peter Greenleaf
bought a five-bedroom, five-bath Craftsman in Bethesda. It has cathedral
ceilings, a two-story foyer, a loft, and a two-car garage. Greenleaf is
president of MedImmune, a pharmaceutical company in
Gaithersburg.
VIRGINIA
Businessman
Marvin Bush and his wife, Margaret,
bought a three-bedroom, five-bath condo in Arlington's Turnberry Tower for
$3.8 million. The 4,447-square-foot unit has a master suite with two
walk-in closets, a private elevator entrance, and a 500-square-foot
balcony. The building boasts an indoor pool and hot tub, valet parking,
and a movie-screening room. Marvin Bush, a cofounder and managing partner
of Winston Partners, is the fourth son of former President George
H.W. Bush.
Technology executive Vivek Kundra bought a
five-bedroom, six-bath Colonial in McLean for $1.8 million. The house has
a three-car garage and dual staircases. Kundra, the country's first chief
information officer, was responsible for focusing the government's
computer-infrastructure spending on cloud computing. He's now
Salesforce.com's executive vice president for emerging
markets.
Government-relations consultant Edward Fritts
and his wife, Martha Dale Fritts, bought a three-bedroom,
four-bath house in Arlington's Country Club Hills for $1.5 million. The
French-country style home has a three-car garage and a walk-out basement
with a kitchen and wine cellar. Eddie Fritts, former CEO of the National
Association of Broadcasters, is founder and CEO of the Fritts Group, a
government and public-affairs consulting firm in DC.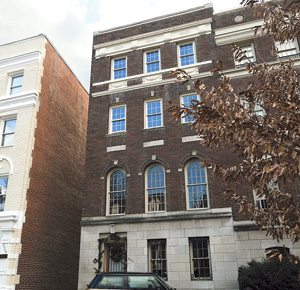 DC
Restaurateur James
Alefantis and his partner, media watchdog David
Brock, sold a six-bedroom, four-bath Federal-style house in
Kalorama for $2.1 million. The 93-year-old home has a walk-out basement
and three fireplaces. Alefantis is owner of Comet Ping Pong and Buck's
Fishing & Camping as well as board president of the contemporary-art
gallery Transformer. Brock is founder of Media Matters for
America.
Lawyer Donald Vieira bought a four-bedroom,
four-bath Victorian in Cleveland Park for $1.8 million. The renovated
106-year-old home has nine-foot ceilings, marble bathrooms, and
stained-glass windows. Vieira is a partner at Wilson Sonsini Goodrich
& Rosati, focused on foreign investment, privacy, and data
security.
Some sales information provided by American City Business
Leads and Diana Hart of TTR Sotheby's International Realty.
This article appears in the February 2013 issue of The Washingtonian.