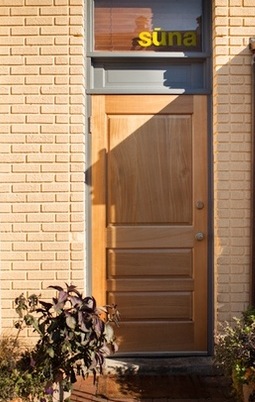 When the owners of Suna and Acqua Al 2 opened 28-seat speakeasy Harold Black, they didn't publish the phone number. To score spots at the reservations-only bar—hidden behind a sliding door of rough-hewn wood—guests sent a text message to a secret phone number.
It was easy to ping the policy as elitist, or contrived and overly cute. But part-owner Ari Gejdenson says the idea came out of a desire to let Harold Black start out as a hangout for neighborhood types and Acqua regulars. "We wanted to grow slowly," he says. When you go there, you get why the owners are protective of Harold Black. With a row of booths separated by dramatic ceiling-high bookshelves, the room has a dark beauty that cannot be denied. Friendly and welcoming in its quiet way, it is a place where you can relax, where you can think, where you can have a cocktail and a conversation. Also, the number was not hard to get—you just call Acqua Al 2 and asked.
But that is no longer necessary. After the City Paper published Harold Black's digits in a January article, the bar became barraged with reservation requests, says Gejdenson, and booked up well in advance. To accommodate the demand, Harold Black has teamed up with reservations company CityEats. Starting in about two weeks, you can just head to the website and book your spot. In addition, eight seats will be set aside for walk-in customers—in case, you know, you happen to be in the neighborhood.
Harold Black. 214 Seventh St., SE; 202-540-0459.