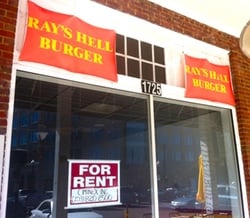 When news came in January that both Ray's Hell-Burger and Hell-Burger Too had suddenly closed due to a landlord dispute, the situation seemed temporary.
"Please visit us at Ray's to the Third while we take a quick break," read a sign on the Hell-Burger door, directing patrons to a third sister location across the street.
Unfortunately for the many Hell-Burger devotees who flocked to the original location—including high-profile diners such as President Obama and Vice President Biden—it now appears the closures may be more permanent. We spotted "for rent" signs in the windows of both restaurants, which appear to have been mainly cleared of their furnishings, despite "Ray's Hell Burger" and "Nice 'n' Greasy Steak 'n' Cheesy" banners above their respective doors (the cheesesteak concept shared menu space with Hell-Burger Too). While owner Michael Landrum was not available for comment at the time of this post, Ominex, the real estate company responsible for 1723 and 1725 Wilson Boulevard, confirmed that the two locations are available for lease.
So what's a person with a juicy meat craving to do? For now, head over to Ray's to the Third. Signs outside the restaurant advertise "original Hell Burgers and Steak-N-Cheese here!," and warn that cars parking in the formerly occupied lot will be towed. Also: Keep your fingers crossed that Landrum's no-frills but oh-so-delicious shops will live again in a storefront near you.
See also:
Ray's Hell-Burger Is Temporarily Closed, but Owner Michael Landrum Is Offering Free Burgers
An Early Look at Steak and Cheese