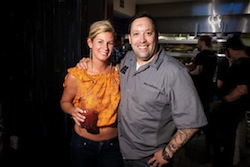 A little while back, we took an in-depth look at G, the first location of what Mike Isabella hopes will be a chain of Italian sandwich spots. Now let's turn our attention to Kapnos—the Greek concept that started it all.
To review: When Isabella first went looking for a location for Kapnos, he was offered 7,000 square feet at 14th and W streets, Northwest. That was a little sizey for what he had in mind, so he decided to give over a slice of the space to G—a sandwich shop by day and tasting-menu restaurant by night. From G, customers will be able to peek into Kapnos, where the menu will revolve around whole animals (duck, chicken, pig, lamb, goat) spit-roasted in wood-fired grills. Isabella says he has already locked down sources for a number of the animals that will be on offer—they will include suckling porkers from Bev Eggleston's EcoFriendly Foods and lamb from Border Springs Farm, both in Virginia. Portion possibilities will range from entire animals—which large parties can reserve in advance for a majorly medieval feast at the chef's table—to four-ounce tasting sizes, meaning you can share just-off-the-beast baby goat, duck, and lamb at the same meal.
Let's break it down.
The Look
Isabella famously helmed the kitchen at Greek-leaning Mediterranean tapas restaurant Zaytinya, and when it came time to open Kapnos he wanted to make sure it was readily distinguishable from his old boss José Andrés's sprawling eatery as well as the blue-and-white, Greek-flag-invoking decor that is de rigueur at so many American Greek restaurants.
Inspired by Isabella's travels to Northern Greece and Macedonia, the Streetsense-designed restaurant will feature lots of earth tones and soft textures, with a more upscale vibe than that whole industrial thing going on at his Penn Quarter Italian restaurant, Graffiato.
The Menu
Dishes at Kapnos were informed by Isabella's experiences eating in Northern Greece. The menu will be divided into six categories—Spreads, Raw, Cold, Garden, Ocean, and Spit—the last referring, of course, to the aforementioned skewered whole animals. The beasty focus separates Kapnos from most Greek restaurants, Isabella points out, where seafood is the main event. But dishes in the Raw category will incorporate sardines, clams, and spot prawns, and among the offerings in the Ocean category we can expect a new octopus dish with grapefruit, fennel, and cucumber, and a salt-baked turbot wrapped in dough that customers will order in advance.
Traditional mezze spreads will arrive with pita baked in a wood oven; Cold items include "salads and things like that," per the chef—among them a signature Greek salad. Graffiato is a favorite among vegetarians for its flavor-forward meatless options, and vegetables will not be an afterthought at Kapnos, either. Look out for a new mushroom dish and a yellow lentil one, too.
The Specials
Isabella knew well that Greek-food fans would arrive expecting stalwarts such as spanakopita, moussaka, and avgolemono soup, so he decided to do a daily special to sate their appetites. Isabella and chef de cuisine George Pagonis will offer one of these typical dishes every day Kapnos is open.
The Drinks
Taha Ismail's cocktail program is still in the works, but we do know Kapnos will carry on the Isabella tradition of having non-beer beverages on tap (Prosecco at Graffiato; margaritas at Bandolero). Look out for three Greek keg wines—a rosé, a white, and a sparkling.
The Schedule
Kapnos debuts with dinner; weekend brunch will arrive down the line. Lunch is not in the game plan—that's more of a G thing.
Kapnos. 2201 14th St., NW.

More stories to feast upon:
5 Things to Expect at G, Mike Isabella's Italian Sandwich Spot (Menu)
Bandolero: Mex It Up
100 Very Best Restaurants 2013: Graffiato
"Life After Top Chef" Debuts in October
A Q&A With "Top Chef" Judge Gail Simmons