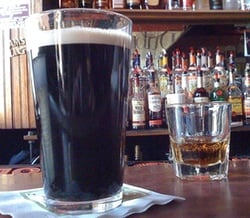 Pub crawls and emerald-hued Mad Hatter hats are fun for awhile, but there comes a time in every drinking life when a rowdy St. Patrick's Day no long appeals. While the first instinct of the grown-up drinker may be to sit out the riots on the 17th, we have a better idea: Head to your low-key neighborhood bar and order yourself a beer back.
Never braved a beer-and-whiskey pairing before? Good news: Kindly Quarry House Tavern bar manager Gordon Banks, along with two of his trusty 'tenders—Baback Salimi and Joe Polson—created this pairing guide to Irish whiskey beer backs exclusively for us. Via blind tasting, they paired whiskies from the bar's 30-bottle collection with some of its fine brews. So go ahead and try one—we guarantee it will go down a lot easier than a cheap green lager. If you can't find the recommended beers below, Banks suggesting opting for another of the same style.
Psst: Can't handle the straight stuff? Stay tuned—we've got many more things to do with Irish whiskey this St. Paddy's coming your way soon.
Bushmills Black Bush
Pair with: Ayinger Celebrator Doppelbock
Gordon's Notes: "The smooth, caramel notes of the whiskey go great with the dark, malty brew."

Clontarf
Pair with: Gaffel Koelsch or Pinkus Ur Pils
Gordon's Notes: "This whiskey is super light with a clean finish that drops off the palate quickly," explains Banks. He suggests drinking it with "a light, clean, lager-style beer with hop notes."

Connemara Single Malt
Pair with: Samuel Smith's Organic Chocolate Stout
Gordon's Notes: "We're getting into the Scotch of Irish whiskies with this one—very peaty for an Irish. I love the combo of smoke and chocolate, but stay away from the high ABV [alcohol by volume] ones that may overpower the whiskey." Banks says this pairing is "great for a cold, drizzly day."

Jameson
Pair with: Crabbie's Ginger Beer
Gordon's Notes: "Even though Jameson is the bartenders' choice of shots, it came in last in flavor for us," says Banks. "We decided to match it up with alcoholic ginger beer." If St. Paddy's turns out to be a nice day weatherwise, "you could even put the whiskey in the beer and add ice and a lime."

Knappogue Castle 12-Year
Pair with: Urthel Hop-It (Belgian strong ale)
Gordon's Notes: "This is a lighter whiskey that has a fair amount of smoke and a clean finish. It pairs great with Urthel Hop-It, a Belgian IPA/Pale with a noticeable, but not overpowering, hop characteristic."

Knappogue Castle 1951 (aged for 37 years)
Pair with: Itself
Gordon's Notes: "I am normally not as big a fan of the really old stuff, as it can pick up too much oak. However, this one is extremely complex with deep forest notes throughout (when did I start writing notes like that? Must have sipped a few). As much as I want to put a $200 boilermaker out there, I really think this one should be sipped on its own."

Michael Collins Blended Irish Whiskey
Pair with: Crispin Original Cider
Gordon's Notes: "Think of this as a lighter Jameson. It goes great with dry cider. Actually, beer and whiskey is classic, but whiskey and cider is great! We all thought all of these whiskies could go with cider, some sweeter and some dryer."

2011 Midleton Very Rare Whiskey
Pair with: St Peter's Organic Ale
Gordon's Notes: "This was our favorite sipper—smooth with a hint of sweetness and a little bite on the back. It has a great balance that you don't want to outshine. Go with or an English-style pale or an ESB [Extra Special Bitter]."

Powers

Pair with: Laughing Dog Dogzilla Black IPA
Gordon's Notes: "Powers is a great shooting whiskey due to its sweetness and prominent vanilla. The big malt in the beer goes great with the vanilla, while the bitterness cuts the sweetness."

Tyrconnell 10-Year-Old Madeira Finish Single-Malt Irish Whiskey
Pair with: JW Lees Harvest Ale, aged in port casks
Gordon's Notes: "This big whiskey—with the finish of the Madeira casks—made us want a big, sweeter beer to cut through it."