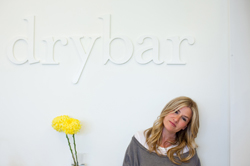 As the founder of Drybar, the chic blowout-only concept that opened locations in Georgetown and Bethesda last year, Alli Webb spends her busy days overseeing the chain's 26 (and counting) outposts and developing new goods for the salon's product line.
Read on for the longtime hair stylist's favorite beauty picks—plus the secret products behind her always-perfect waves.
1) Caudalie Premier Cru the Cream
Alli says: "This face
cream keeps my skin moisturized and radiant throughout my busy
schedule. It's a serum and moisturizer in one, so it lightens my load
when I'm traveling."
$155 at Sephora.
2) Bond No. 9 New York Madison Square Park Candle
Alli says: "I love the smell. Named after the famed Flatiron park, it reminds me of our very first Drybar shop in NYC."
$110 at Saks.
3) Peter Thomas Roth Power K Eye Rescue
Alli says: "I use it religiously every morning to eliminate tired eyes."
$100 at Sephora.
4) Chanel Illusion D'Ombre Long Wear Luminous Eyeshadow in Vision
Alli says: "So pretty—the gold shade makes it super easy to apply."
$36 at Nordstrom.
5 and 6) Drybar the 3-Day Bender and 100-Proof Treatment Oil
Alli says: "The bender is the perfect waving tool and is great for touch-ups between blowouts; our new treatment oil seals my ends, eliminates frizz, and totally rejuvenates my hair."
$125 for the 3-Day Bender, $35 for 100-Proof Treatment Oil, both at Drybar.
Whose beauty essentials are you dying to see? Tell us in the comments, or email us!