Set to open in late July, the new Arlington location of BonChon Chicken is the project of Thomas An and Paul Choi, the duo behind the chain's Centreville restaurant. Famous for its crispy fried chicken, Korea-based BonChon has locations all over the world.
To create the new 100-seat space—located in the Shops at Pershing at 2201 North Pershing Drive—An and Choi hired local design firm GrizForm, the architects behind Mandu, Proof, G Street Food, Cava, Fiola, Estadio, and a bunch of other Washington-area restaurants.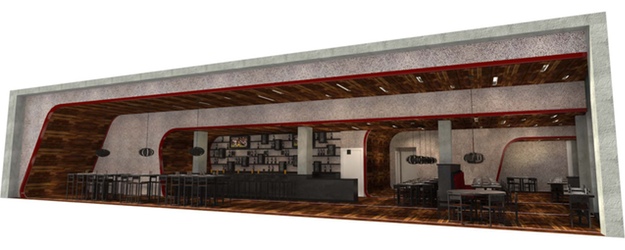 Principal Griz Dwight is aiming for a "clean and contemporary" look inside the 3,500-square-foot space. He chose a deep color palette of rich reds to complement the wood planking that wraps the restaurant walls and ceiling.
Fried-chicken fans will sit at communal tables beneath suspended lights, and there will be a separate bar area for enjoying a few beers or some soju, a distilled beverage ubiquitous in Korea. An and Choi also plan to offer outdoor seating.
Fans of the pork buns at the Centreville BonChon can look forward to finding those on the menu in Arlington—but An isn't spilling the beans on any more menu specifics this far out from the opening. Earlier this year the Annandale chicken restaurant that once also operated under the BonChon name—an outpost with which An and Choi have no association—closed to become Chi-Mc Chicken & Beer.