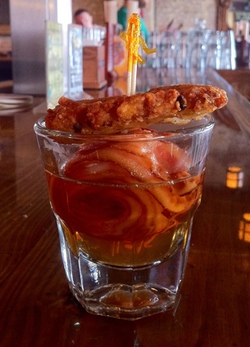 It may be heresy to feature a St. Patrick's Day drink recipe without Jameson, but we're choosing to honor another tradition of the holiday: boozing in the morning. As if there isn't enough incentive to consume more alcohol than usual on Sunday, many local watering holes are opening their doors as early as 8 AM, meaning one thing: Breakfast is a must. Fortunately, Star & Shamrock co-owner Jason Feldman dreamed up a shooter that combines sustenance and whiskey, setting the stage nicely for your St. Paddy's revelry.
You won't necessarily see the off-menu Mac'Griddle shot at the H Street pub, but order one at the bar and you'll be faced with a hearty dose of maple-flavored Crown Royal whiskey garnished with fried pork belly and a miniature house-made potato latke (the bar is half-Irish, half-Jewish, after all). The sweet-salty flavors recall McDonald's McGriddle sandwich, though the alcohol might help you hate yourself a little less afterward. Who will hate you: the bartenders if you order it during the height of the St. Paddy's festivities. Either get there when the doors open at 10 AM (and ask nicely), or concoct one yourself at home.
Given that you're drinking too early for heavy cooking, we've pared things down to the basics. Instead of pork belly, use good old-fashioned bacon. And instead of fresh latkes, you'll find frozen hash brown mix. Still too complicated? Just buy premade hash browns and fry them up. The ingredient that really pulls it all together is a maple-flavored whiskey, which is a little like drinking boozy syrup (in a good, non-cough-medicine way). Sláinte!
The Mac'Griddle
Makes 4 shots
Ingredients:
1 tablespoon butter
1 large yellow onion, finely chopped
1 package frozen shredded potatoes or hash browns, such as Ore-Ida
Salt and pepper, to taste
2 tablespoons vegetable oil
4 strips thick-cut hickory-smoked bacon
6 ounces Crown Royal Maple, or other maple-flavored whiskey such as Tap 357, available at local liquor stores like Virginia ABC, Ace Beverage, and Bassin's
Prepare the garnishes:
Set a skillet over medium heat and add butter. Once it melts, add the onion and cook, stirring, until translucent and fragrant.
Meanwhile, defrost the potatoes according to the package instructions and put them in a medium bowl. Add the onion and toss with salt and pepper to taste.
Form the potato mixture into small, half-inch-thick patties (at this point you can keep them overnight, covered, in the fridge).
Heat the vegetable oil over medium-high heat. Fry the patties on either side until golden brown. Set them aside on a paper towel.
Set a dry skillet over medium heat and cook the bacon, turning occasionally, until golden brown and beginning to crisp. Set aside on a paper towel.
Make the shots:
Fill four whiskey glasses with 1.5 ounces of maple whiskey. Place a piece of bacon in each, and top the glass with the potato pancake (if it doesn't balance well, just serve it alongside).