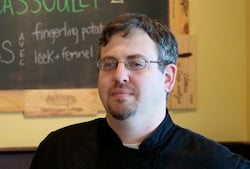 A seafood sausage of scallop and shrimp on a lobster-roll bun, Swedish meatballs with potato purée, lingonberry, and pickled cucumber, pickled herring, a BLT with salmon bacon, and Rappahannock oysters simmered in their shell and topped with beurre blanc and smoked trout roe: All these things will be on the menu at pop-up spot Hogo (1017 Seventh St., NW), where Ed Hardy—recently appointed chef de cuisine at Bistro Vivant in McLean—will be cooking for the next two weeks.
Hardy learned about Hogo from his longtime friends T. Marshall Fawley III and Sean Michael Whipkey at Scofflaw's Den, and signed up for the stint before securing his new gig. But there is now synchronicity between the projects: The aforementioned BLT and oyster dishes will also show up at the French restaurant. Hardy says currently he has no plans to open a Nordic restaurant in Washington—the Swedish inspiration comes from his time working under chef Marcus Samuelsson at Aquavit and Red Rooster in New York.
In late April, Hardy heads to Glass Haus Kitchen in Charlottesville, Virginia, to create a seven-plate prix-fixe menu of classic and modern French dishes alongside chef Ian Boden. Later, Boden and Hardy will do a menu together at Bistro Vivant—the exact date is to be determined. In fact, Hardy hopes to have a number of guest chef nights, wine events, and suckling pig soirees at the restaurant.
Bistro Vivant's spring menu debuts this week. Catch Hardy at Hogo beginning Tuesday, March 19. The menu is available Tuesday through Saturday until March 30.