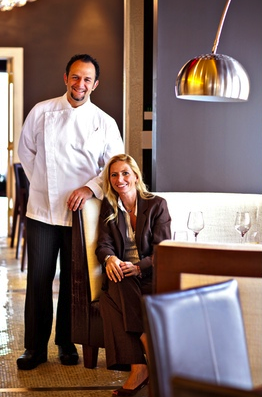 Word came last week that Fiola
chef
Fabio Trabocchi plans to debut a more casual restaurant in the former Againn space in Penn Quarter
this summer. Casa Luca—named for his nine-year-old son, already apprenticing in the
kitchen under his father—will be the most casual restaurant from Trabocchi to date,
a far cry from the opulence of the Maestro days or the $60 Wagyu strip loin on Fiola's
menu. It's possible to dine moderately at the latter—we love posting up at the bar
for a cocktail and shareable small plates or pasta—but the new venture aims to attract
more families with a range of seasonal, rustic dishes inspired by Trabocchi's childhood
in Italy's Le Marche region.
The more moderate menu will feature the Umbrian cheese bread
crescia with broccoli rabe, and
chichì, a flatbread that can act as a vehicle for a variety of fillings, like onions and
roasted peppers. Other items include charcuterie and cheese platters; pastas, such
as ravioli stuffed with greens and Parmesan;
scrippelle 'mbusse, a kind of Italian crepe served here with truffles and Pecorino; and entrées such
as
porchetta-style monkfish with baby artichokes and pork chop cacciatora-style (typically cooked
with tomatoes and wine). Daily specials could include dishes like grilled lamb chops
and
porchetta.
Drinks, too, will be a more casual affair in a tavern-esque atmosphere. Wine director
John Toigo will source red, white, and sparkling wines on tap from across Italy, and is building
a menu that includes 20 bottles of Italian and Spanish vino for under $30. Bar
manager
Jeff Faile is also responsible for creating a cocktail menu around traditional Italian spirits.
Check back for more details, as well as news about Fiola Mare, Trabocchi's Italian
seafood restaurant currently underway for an opening near the Georgetown waterfront.