We're not going to tell you to buy a white tee and a pair of perfectly fitted skinny jeans, because: duh. Why is every "essentials" list stocked with boring basics you already have? We don't know, but we're here to remedy that: Here are the eight style musts to mix in for the ultimate so-right-now spring wardrobe. Get one of each, and give your style an instant upgrade. You're welcome.
1. A Sharp, Structured Jacket
This is a way chicer approach to battling
overzealous AC than a ho-hum cardi. Look for a jacket with a sleek,
futuristic silhouette—that means shoulder pads, some killer draping, and
a slim-yet-sculpted shape.
Helmut Lang Sugar Combo jacket, $575 at Intermix.
2. A Chambray Shirt
Ok, this one isn't so new, exactly. But still,
this is an über-versatile piece every style-savvy girl should have
sitting in her closet. The laid-back workhorse pairs with everything
from a pleated chiffon maxi skirt to sleek leather short-shorts. It's a
must.
Perfect chambray ex-boyfriend shirt in Ferrous Wash, $69.50 at Madewell.
3. Leather Shorts
And
speaking of leather shorts: Get yourself a pair. Wear them with
everything, just like you would jean shorts. Lather, rinse, repeat.
Premium leather shorts, $130 at Topshop.
4. The Statement Collar Necklace
We love the dramatic punch of a
major statement necklace, and the latest versions sit right at the
collarbone for face-framing perfection. Mix yours with this year's
florals and stripes for a modern take.
Dannijo Zinnia necklace, $612 at Shopbop.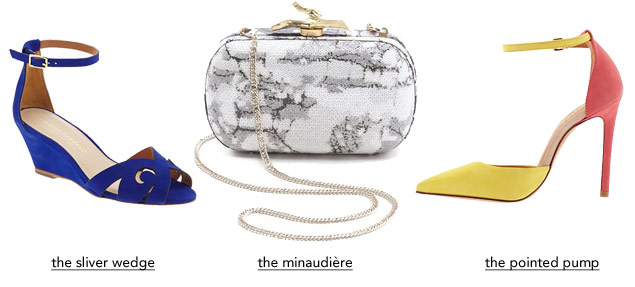 5. The Sliver Wedge
This
just-a-hint-of-heel wedge is this year's hottest sandal silhouette.
Naturally, we lean toward the styles with a touch of something special,
whether it comes from a flash of glinty metal, a lasercut suede texture,
or a splash of exotic snakeskin.
Loeffler Randall Amelia suede wedge sandal, $375 at Saks.
6. A Minaudière
While
there's no question that recent years' dalliance with oversize clutches
is infinitely more convenient for those of us who simply cannot
function without at least four lipsticks on hand at all times, these
much more diminutive hard-cased clutches are the perfect balance of
retro and modern, plus they come in a zillion playful patterns and
vibrant colors. And who can argue with a trend that forces you to
streamline?
Diane von Furstenberg Lytton printed sequin box clutch, $325 at Shopbop.
7. The Pointed-Toe Pump
We've already waxed poetic about this shoe style, so no grandiose verbiage necessary. Just buy them already.
Schutz Irma ankle-strap pump, $175 at Piperlime.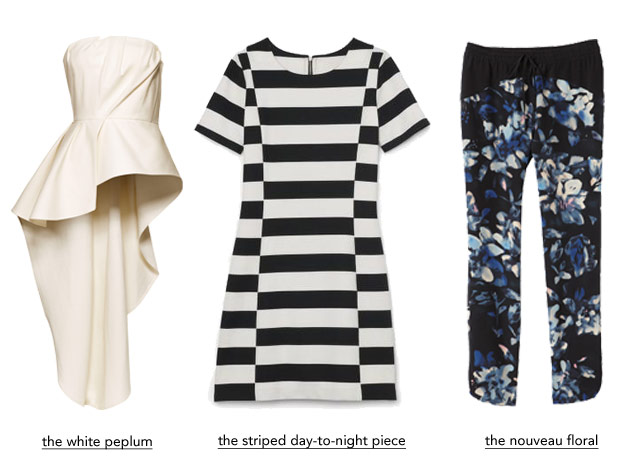 8. A Peplum Top in White (or Leather)
Peplums
have been ruling the collective style consciousness for some time now.
Lately, though, this femme style has been popping in spring-perfect
off-whites and on-trend leathers. We promise you'll be grabbing for the
new iteration more than you expect.
Pictured: Asymmetric strapless peplum top, $69.95 at H&M stores.
Similar style: White peplum top, $44 at Dorothy Perkins.
9. A Day-to-Night Stripe
Bold
graphic black-and-white stripes are everywhere this season—but the best
part about the trend is how utterly versatile it can be. A bit mod and
totally dramatic, this pattern works at work, then out to dinner, then
out for drinks . . . you get the idea. Try a slinky silk blouse or a
more structured ponte dress.
Alice double-knit dress, $149.50 at Club Monaco.
10. The Nouveau Floral
Florals
are kind of a mainstay for warm-weather months, but this year's batch
has turned the print in a new direction, shoving aside the usual
sticky-sweet, dainty versions for those with a bit more attitude. Think
deep, rich palettes, black panel detailing, and exposed-zip accents.
Hawaiian track pants, $295 at Rebecca Taylor.