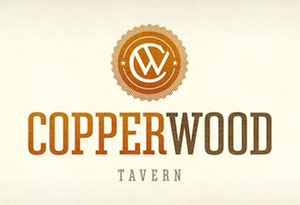 Heads up, Shirlingtonians: A new restaurant from the team behind Irish Whiskey
is headed to the former Bistro Bistro space. Co-owner
Reese Gardner reached out to tell us about the latest project, a 5,700-square-foot tavern and bar
called Copperwood Tavern.
The restaurant is slated to open in August, with Irish Whiskey chef
Sean McIntosh at the helm. While McIntosh created a pub grub menu for the Dupont bar with delicacies
like the "Irish egg roll,"
Copperwood will have more of a full-service restaurant feel in the 115-seat dining
room. Diners can make a meal of several seasonal small plates, or order entrées such
as roast chicken and steak alongside family-style sides of macaroni and cheese, corn
casserole, and a changing array of seasonal vegetables like asparagus and Brussels
sprouts. Brunch brings a Bloody Mary and seafood buffet with freshly shucked oysters,
clams, and steamed shrimp. A separate bar area will cater to drinkers with 24 craft
brews, a large collection of whiskeys, and number of local Virginia moonshines. The
service bar for the dining room is also separate, meaning you won't wait for ages
while your bartender mixes martinis for a table of ten.
Designer
Maggie O'Neill, who conceived spaces such as Sax
and Hank's Oyster Bar
in Dupont, is behind the cabin-like decor, with an emphasis on natural woods and accent
pieces such as copper moonshine mash pots. Dog lovers will be drawn to a 56-seat outdoor
patio, where guests are encouraged to bring their four-legged companions. While you
sip a beer and read the paper, Fido will be treated to house-made biscuits and water
out of custom-made bowls.
Check back in with more details closer to the opening.