Some trends are not universally adored. Take leggings, for example. Crop tops. Harem pants. Denim on denim.
This season, we'd add wedge sneakers to the list of especially divisive, love-'em-or-seriously-hate-'em fashions. (For the record, we're on the "love 'em" side of the argument. We love us a heel—on anything.)
But we have a theory on one reason a relatively innocuous pair of shoes might incite such emotion: They're just so very tricky to wear—or wear well, at least. That's why when we spotted the elevated sneak on the feet of two local style bloggers, we immediately wanted to know their secrets to making this trend look chic, not silly. Read on to see how our brave fashionistas styled theirs, then shop 12 of our fave versions on the market.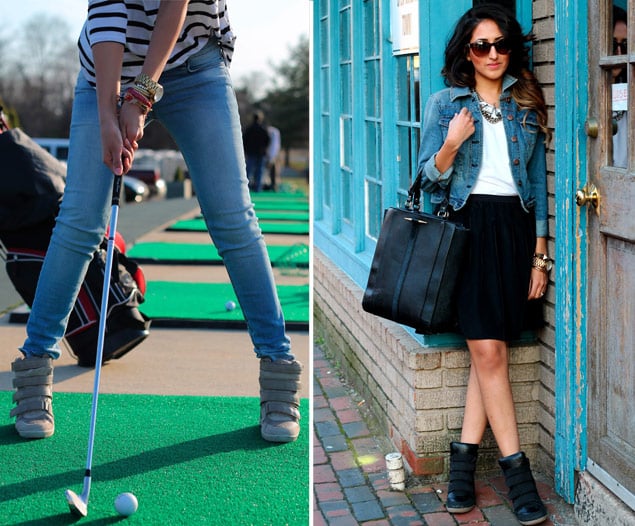 "They give a tomboyish edge to any outfit and are a welcome
alternative to the flats and heels we've seen season after season. I
wear mine with skinny jeans and short skirts to really show them off." Sanaa Ansari Khan, the Style Matrix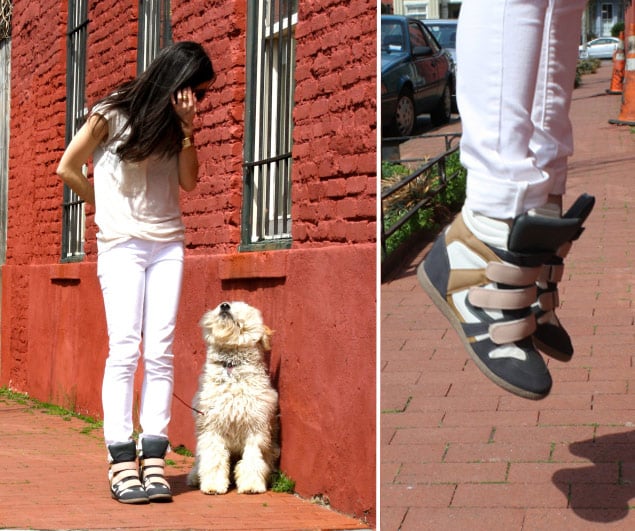 "Don't overthink it! At the end of the day it's a sneaker, so
don't try to dress it up. A skinny jean is the wedge sneaker's best
friend, and now that it's getting warm out I can't wait to experiment
with shorts. Whatever you do, just have fun with it!" Eden Raskin, Garden of Glam
Shop This Trend:
Top row: Rachel Zoe Geri mixed material snakeskin sneakers, $295 at Bloomingdale's; Chism suede sneaker, $80 at Aldo; Ash Bowie Ter, $250 at Piperlime; Lleve sneaker, $89.95 at Steve Madden. Middle row: DKNY grommet sneakers, $165 at Shopbop; French Connection Marla perforated wedges, $165 at Zappos; Marc by Marc Jacobs neon cutout wedge sneaker, $328 at Shopbop; See by Chloe color-block wedge sneakers, $375 at Neiman Marcus. Bottom row: Casadei high-top, $1005.01 at Farfetch; Puma by Hussein Chalayan Hakkoda Lo sneakers, $179.95 at Nordstrom; Guiseppe Zanotti Alba canvas and metallic leather sneakers, $895 at Saks; Nyla Jerdon sneakers, $59.95 at Nordstrom;