Q: I'm about to head out on a spring vacation to Spain, and I want to get a pedi first. What are the trendy nail polish colors for spring? —J.
Lucky you!
This season's infatuation with all things pastel extends to nails, and we're particularly loving the slightly brighter versions, which rework the soft hues into cheerful polish palettes inspired by sweet treats like cotton candy, sherbet, and pretty pastries (to which we say: YUM.). Our favorite interpretations? The tooth-achingly sweet shades of Estée Lauder's and Butter's spring collections, shown above and appropriately dubbed Paris Macarons and Sweetie Shop, respectively. Dip a toe—both literally and figuratively—into the mint trend with the soft green hues, or try the lilac lacquers, which feel like a cheerier extension of the winter's ever-chic dark plums. (We're also partial to the cool, tropical blue hues.)
Not craving the candy colors? Go for one of L'Oréal's spring shades, below, which take the sweets-inspired hues and pump them up into flirtier brights that touch on the same trend, but in a less sugary way.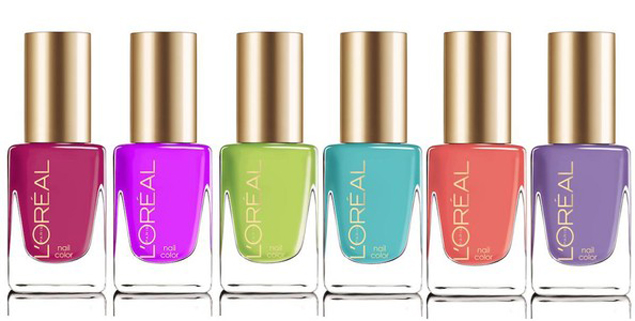 Estée Lauder Paris Macarons collection in Narcissist, Lilac Leather, Coral Cult, Dilettante, and Absinthe. $20 each at Estée Lauder.
Butter London Sweetie Shop collection in Jasper, Kerfuffle, Fiver, Fruit Machine, and Molly Coddled. $15 each at Nordstrom.
L'Oréal Paris Colour Riche collection in Crazy for Chic, Members Only, New Money, Not a Cloud in the Sky, Orange You Jealous?, and Royally Reinvented. $4.74 to $4.99 each at Target.
Got a Style Q? We're here to help: Send us an email, or tweet us!