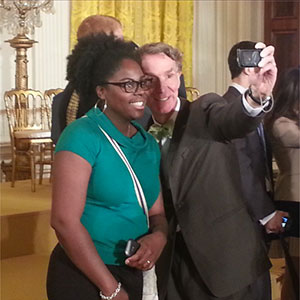 Bill Nye the Science Guy is standing there exactly as you remember him from TV, with tousled
brown hair and a bow tie, talking about how cool science is. Except now he's in the
White House, discussing policy as kids and adults swarm around him for photos and
autographs.
"Your hope is that the United States will be the world leader in innovations," said
the childhood hero in between smartphone selfies with fans. "And that's gonna come
from science, from people who are in school today."
Nye was one of the guests at Monday's White House Science Fair, now in its third year.
Last year,
President Obama fired a marshmallow cannon through the State Dining Room—this year, he pedaled a
stationary bicycle to power a water sanitation device, and announced a new AmeriCorps
program focused on connecting students with scientists and engineers.
"Let me just start by saying, in my official capacity as President: This stuff is
really cool," said Obama.
More than 100 students—from high schoolers all the way down to third graders—crowded
the White House grounds, some with the familiar three-panel presentation boards, others
with rockets and robotic claws simulating space elevators.
Anne Arundel County's
Jack Andraka got a special shout-out from the President for developing a cheaper, more accurate
test for pancreatic cancer.
"I don't know what you guys were doing when you were juniors in high school," said
Obama. "That's what Jack is doing. Better than I was doing, I promise you."
Andraka was spurred into action after a close family friend died of the disease. He
asked 200 labs for space to conduct his research, and was rejected by each one before
finally getting a chance at Johns Hopkins.
After the President's remarks, Nye spoke about the importance of stories in engaging
students in science and technology. Sometimes, as in Andraka's case, a story can inspire
and motivate that interest. But stories are also an important tool in teaching those
fields.
"I think if you're going to teach anything or get any idea across, there's nothing
better than a story," said Nye, whose show—which garnered 18 Emmys in five seasons—did
just that. "Humans respond to stories. It's the pattern we impose on the world to
understand it."
And Nye is worried that the story of America's leadership in the realms of science
and technology is ending. Although the President started the White House Science Fair
as part of a renewed focus on STEM (science, technology, engineering, and mathematics) education, Nye said we need to do more.
"There's no money for anything—that's the message," said Nye, who spoke earlier this
year at the House Science Committee on these issues. "However, I think there should
always be money for basic research, because you don't know where it's gonna lead.
. . . It can change the world.
"If you stop looking up and out, what does that say about you?" And with that, Nye
turned around to face a line of eager fans clutching their phones, ready for a photo.