In Virginia
Conservative heavyweight C. Boyden Gray and
former sister-in-law Deecy Gray bought as co-trustees a
three-bedroom, five-bath condo in Rosslyn's Turnberry Tower for $3.6
million. The building has a 24-hour concierge, valet parking, and an
indoor pool. A founding partner of the law firm named for him, C. Boyden
Gray was White House counsel to President George H.W. Bush and, from 2006
to 2007, ambassador to the European Union. Deecy Gray—who is married to
Douglas Ginsburg, former chief judge of the United States Court of Appeals
for the District of Columbia Circuit—is the widow of Burton Gray, Boyden's
brother.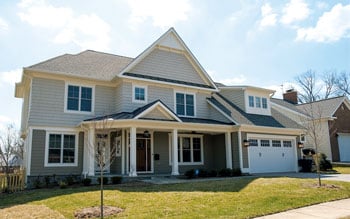 Finance executive Kevin O'Shea bought a six-bedroom, five-bath
Colonial in McLean for $2.1 million. Built in 2008, the house has a
library and family room with wet bar and beamed ceiling. O'Shea is
executive vice president of capital markets at AvalonBay Communities,
which develops and manages apartment buildings across the
country.
Capitals winger Troy Brouwer and wife Carmen bought a
five-bedroom, five-bath Craftsman-style house in Arlington for $1.6
million. Built this year, it has exercise and recreation rooms on the
lower level. In September, the Caps signed Brouwer to a three-year,
$11-million contract extension.
Cartoonist Nick Galifianakis sold a
three-bedroom, four-bath farmhouse-style home on East Jefferson Street in
Falls Church for $975,000. Built in 1890, it has a wraparound porch and
detached workshop. Galifianakis illustrates former wife Carolyn Hax's
advice column, which appears in the Washington Post and is
syndicated nationally.
Hilton Worldwide CEO Chris Nassetta paid
$825,000 for a house on 30th Street North in Arlington. Nassetta owns four
other properties clustered around that corner; together, the five
properties are assessed for $9.3 million. Nassetta joined Hilton in
2007.
In DC
Orthopedic surgeon Christopher Cannova sold a
six-bedroom, five-bath Colonial in Spring Valley for $2.3 million. The
3,700-square-foot house has an au pair suite. Cannova practices at
OrthoBethesda, where he specializes in joint reconstruction and
replacement.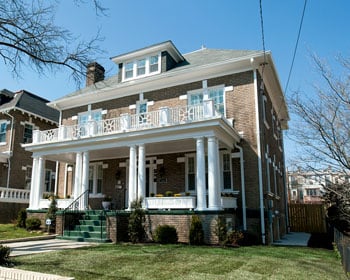 Lawyer Pamela Marple sold a six-bedroom,
five-bath rowhouse on S Street near Dupont Circle for $1.4 million. Built
in 1885, it has six fireplaces and a lower-level in-law suite. Marple is a
partner at the law firm Chadbourne & Parke, where she heads the
government-investigations-and-regulatory-litigation group.
Food writer Tom Sietsema bought a Wardman-style Colonial in
Crestwood for $1.3 million. The recently renovated house has five bedrooms
and five baths. Sietsema is restaurant critic for the Washington
Post.
Former senator Joe Lieberman and wife
Hadassah sold a three-bedroom, four-bath Federal-style
townhouse on Ivy Terrace Court in Burleith for $1.3 million. In the gated
Hillandale development, the property sold in five days. Lieberman was the
nominee for Vice President in the 2000 election, running alongside Al
Gore.
Some sales information provided by American City Business Leads
and Diana Hart of TTR Sotheby's International Realty.
This article appears in the May 2013 issue of The Washingtonian.