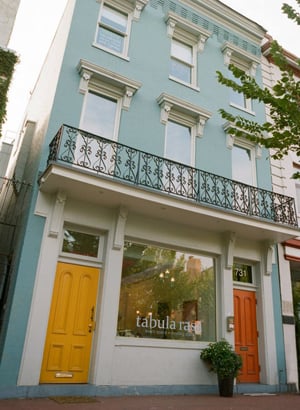 An Evening of Fashionable Fun
Meet fashion blogger Makeda Saggau Sackey of the Glamazon Diaries as she hosts this shoe-focused Neiman Marcus event, at which the luxe retailer will present its newest designer footwear brands and discuss the latest spring trends. RSVP to rsvpwashington@neimanmarcus.com. Tuesday at 6 PM. Neiman Marcus Mazza Gallerie. 5300 Wisconsin Ave., NW.
Swap in the City
DC-based fashion companies Snobswap and Dewdrop host a social shopping event and fashion show to benefit Becky's Fund. Bring your in-style designer duds to swap, then shop the selection of pre-loved goodies. You'll find cocktails and sweet treats, of course, plus style tips from local experts, music from DJ Kryogen, and a fashion show featuring looks by D'Milikah swimwear and the cream of the designer swap crop, modeled by CapFABB bloggers and styled by Anchyi Wei. Thursday 6:30 to 9:30 PM. 1133 15th St., NW, 12th floor. $20 through Eventbrite.
Tabula Rasa's Hello Gorgeous
Event space Tabula Rasa hosts a weekend of fun: Friday through Sunday, U Street's Lettie Gooch brings its wares to the Barracks Row for a pop-up boutique. And on Saturday, a private shopping and beauty event kicks off, with add-ons that include mini makeup sessions, mini photo shoots, nails, Prosecco, treats from Hello Cupcake and Sugar & Ice, consultations with a stylist and a wellness expert, giveaways, and door prizes. Friday and Saturday 5 to 9 PM. 731 Eighth St., SE. $10 to $150 through Eventzilla.
Tiny Jewel Box Top-to-Bottom Sale
The fine jewelry store's
once-a-year sale is in full swing, with up to 70 percent off designer
gems, antique treasures, engagement rings, and more. Through Saturday.
1147 Connecticut Ave., NW.
Trunk Shows
Barbara Tfank
A
First Lady fave! This designer has dressed Michelle Obama for a host of
appearances, including to meet Queen Elizabeth and for the 2012 State of
the Union address. Check out the designer's latest collection at Neiman
Marcus's couture salon. Friday and Saturday 10 to 5. Neiman Marcus
Mazza Gallerie. 5300 Wisconsin Ave., NW.
Trina Turk
Urban
Chic's Georgetown boutique hosts a trunk show featuring Trina Turk's
summer collection. Snag 15 percent off trunk show purchases, plus a free
gift with your buy. Mimosas and brunch treats finish things off.
Saturday and Sunday. 1626 Wisconsin Ave., NW.
Loren Hope
The
brand's colorful statement baubles will be on display at Periwinkle for
the weekend. Thursday through Sunday. Periwinkle. 1557 Potomac Greens
Dr., Alexandria.