At the end of every school year, students and alumni from Marymount University's fashion design program compete to showcase their creations at the school's prestigious Portfolio in Motion fashion show. (Missed the show? Check out a slideshow of our favorite looks.) And to go along with the show's festivities, each year the program bestows upon one person the honor of Designer of the Year—an announcement as highly anticipated as the fashion show itself.
Last Thursday, Marymount University added Tadashi Shoji to its already impressive roster of honorees, which includes Eileen Fisher (2012), Peter Som ('09), Michael Kors ('07), and Carolina Herrera ('05).
The 2013 Designer of the Year award could not have come at a better time for the Japanese fashion icon—this year marks the 30th anniversary of his Los Angeles-based label. Since its initial launch, the Tadashi Shoji collection has expanded to include a line of eveningwear and bridal fashion, as well as standalone boutiques in international locations such as Shanghai and Beijing. After launching the brand's e-commerce site last year, Shoji is now working on a fragrance deal, which he says he hopes to launch sometime next year.
To celebrate his three decades in business, the designer teamed up with personal-style blogger and YouTube sensation Chriselle Lim to reissue six dresses from his archives. Showcasing Shoji's signature tiered dress design and expert draping techniques, the anniversary collection features strapless, spaghetti-strap, and fit-and-flare silhouettes in colors both demure and striking.
Read on for our interview with the designer—whose fans include celebrities such as Octavia Spencer (he designed the now-famous lavender gown she wore to the 2012 Golden Globes), Kate Beckinsale, and Katy Perry—and to see the looks from the 30th-anniversary capsule collection, available now, view the slideshow.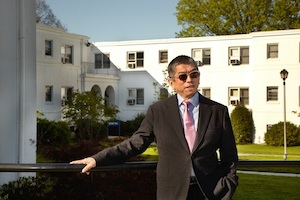 How does it feel to be honored by Marymount University?
I was quite surprised. It's such an honor. Past honorees were Oscar [de la Renta], Carolina Herrera, Tommy Hilfiger . . . all those big names have been in this category. I feel so privileged and humbled by this award.
Why do you think it's important for big-name designers like you to help young designers?
When I was young and meeting with established designers or going to studios and workshops, I was always thinking, "Wow, someday I can be like this one." That dream was always a big motivator. If I can give someone that kind of dream, that's important.
What advice would you give to graduating students who are looking to build a career similar to yours?
When you get a job, work hard. Make even boring assignments interesting and enjoyable. Not only does it make even the most boring job creative, but it also makes time pass faster, benefiting you and the company you're working for.
What else?
Don't lose your curiosity, and open your eyes to all aspects of life. If you open your eyes, and if you have talent and curiosity, you can be a great designer.
Can you tell design students hoping to make a career in fashion something they might not know?
If you want to work for yourself, it's not just about designing. I personally think the business side is almost as interesting as design. It's very creative.
Some of your dresses helped actresses such as Octavia Spencer and Gabourey Sidibe land on best-dressed lists. How does it make you feel?
I love to make anybody wearing my dress feel great and beautiful. It's my passion and maybe even my fate—why I became a fashion designer.
What's next for the Tadashi Shoji brand?
Fragrance. We already decided on the bottle and name and are in the progress of making the scent. Hopefully it will launch next year. It's exciting—I love smell. I've always wanted to make my own perfume, so this is my dream come true.