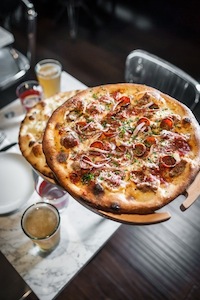 Last year, New York-based chef Michael White announced plans to bring a near-replica of his popular Soho Italian restaurant, Osteria Morini, to the developing Lumber Shed pavilion at Yards Park. Now the real estate development shared news on its Facebook page that a second concept from White's Altamarea Group, Nicoletta Pizzeria, will debut in the park's seasonal stalls.
A representative from Altamarea confirmed that the menu will be very similar to the one at the original Nicoletta in the East Village, including newly added gluten-free pies. The main difference is that the flagship is a full sit-down restaurant, whereas the Yards' stands are more like counter-order kiosks. Don't worry, you won't be taking fragile Neopolitan pizza on the road; the Manhattan shop offers delivery and turns out rounds with intentionally hearty crusts to bolster toppings such as thick-cut pepperoni and house-made fennel sausage, or eggs, pancetta, asparagus, and pecorino cheese on the carbonara pie. There's no word yet on whether the DC Nicoletta will also serve additional menu items like arancini or meatballs, which pop up in various forms across White's restaurants.
The new project is slated to open a few months after Osteria Morini, which is forecast to open its doors this summer. Check back in with us for more details as they develop.