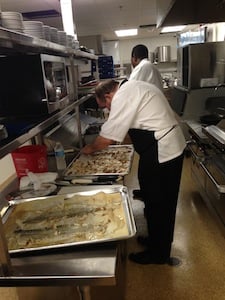 What is Malmaison? The Georgetown Waterfront project from the Popal family—owners of Café Bonaparte on Wisconsin Avenue and Napoleon Bistro & Lounge in Adams Morgan—has been hosting events and concerts since last fall, causing some neighbors to wonder if the planned restaurant and bakery would materialize. It will—on June 17, officially.
Upon opening, the 50-seat cafe will operate on a Tuesday through Sunday schedule, serving lunch—soups, salads, and sandwiches—and dinner. Planned evening entrées include roasted tomato and fresh mozzarella ravioli with basil sauce and arugula salad, homemade duck confit with sautéed potatoes and frisée salad, and glazed vegetables and cod with a crust of mushrooms and relish of shallots and herbs. These are the work of chef Gerard Pangaud, whose résumé includes a three-Michelin-star restaurant in Boulogne, France, and a stint at Aurora in New York City, which the Times awarded three stars while he was executive chef. In the 1990s and much of the aughts, Pangaud owned French spot Gerard's Place (later Gerard Pangaud Bistro) at 15th Street, Northwest, a restaurant that retired Washington Post restaurant critic Phyllis Richman once called "one of Washington's hidden glories." Coincidentally, he grew up near the original Malmaison, the castle outside Paris that belonged to Napoleon and Josephine Bonaparte.
Part-owner Omar Popal revealed to Best Bites that Serge Torres, who has made wedding cakes for the royal family of Bahrain and worked as assistant pastry chef to big-deal cousin Jacques Torres at Le Cirque in New York, will be in charge of dine-in desserts and a selection of pastries and sweets—including macarons—at a second-floor espresso bar that will convert to VIP booze service at night. Malmaison also boasts a mezzanine-level bar with lounge seating and waterfront views. The Popals say the aim of the project—housed in a converted warehouse at 3401 Water Street, Northwest —is to create a concert hall, exhibition space, and salon that harkens back to Parisian cafe culture but has the raw, industrial vibe of New York's Meatpacking District.
Look out for a full preview, coming soon.