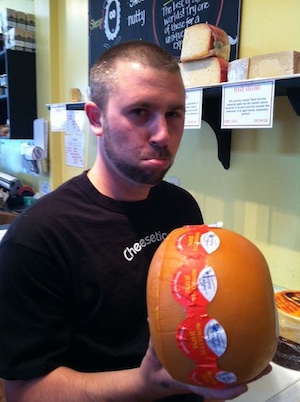 You may not like the idea of microscopic mites crawling around on your cheese rind, but they are essential to the ripening processes in fromages like the orange-fleshed Mimolette.
The popular French cheese has been getting a lot of press lately thanks to a Food and Drug Administration order that has held up a shipment of the stuff after finding what it considered too many mites on the rinds—the worry is that the itty-bitty bugs will trigger allergies. The cheese has been sequestered in a New Jersey warehouse since March, and supplies are dwindling all across the country.
As Ann Limpert mentioned in our Eating & Reading roundup on Thursday, Jill Erber, owner of Cheesetique in Del Ray and Shirlington, is protesting the FDA order by giving away free quarter-pound pieces of Mimolette to fromage fans who post a frowny photo on Facebook.
Erber says she has access to a stash of the cheese, imported before the blocked shipment. The vendor has about 100 pounds left, says Erber, and Cheesetique has reserved "a huge amount" of that. Once it has been sold, Erber anticipates being completely out of the stuff until further notice.
While the FDA has not banned the import of Mimolette, mongers worry that the block signals further access issues down the line and wonder what other products may be sequestered on an ad-hoc basis. Erber points out that mites have been an integral part of Mimolette making for hundreds of years, and it has been imported here for decades. (Popular German Milbenkäse is another example of a mite cheese.) The blocked shipment has prompted a national protest; you can learn more about that on the Save the Mimolette Facebook page. To learn more about the Cheesetique promotion, head to its FB home.