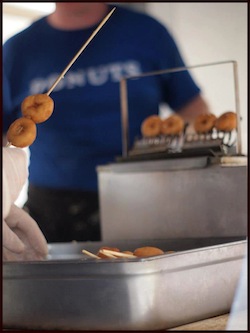 Granted, the minis at Mac's—winner of the Best Bites Doughnut Derby this year—are small as far as fritters go. Still, it would be tough for most of us to gullet 50 of them in a single sitting. The traveling purveyor dispenses apple cider doughnuts at various farmers markets around Washington, but on July 6 at 11 AM it will park in front of the Arlington Courthouse for a stomach-churning contest of the competitive eating variety.
Participants—contact owner John McIntire via Facebook if you'd like to be one of them—must fully chew and swallow each crispy confection. The first person to consume 50 will be crowned the victor.
So what do you get if you win? You get a $100 gift certificate to Mac's Donuts. For what, pray tell, could a person desire more, after eating 50 apple cider doughnuts, than a bunch of free apple cider doughnuts? A roomier pair of pants and some Tums, you say? Some CrossFit sessions? For the nagging sense of self-loathing to disappear? Sorry, not going to happen.
In unrelated doughnut news, Washington Post writer Nevin Martell has, at long last, completed his quest to find the best fritter in Washington. We are totally sending him a gift certificate to a doughnut shop.