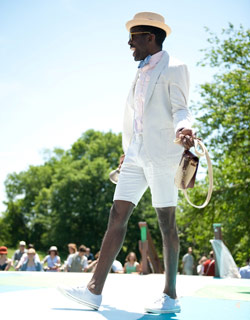 Polaroid Fotobar Opens
Polaroid launches its second location as a pop-up shop in Union Station. Visit the new retail concept to transform your Instagram, phone, or camera photos into the classic Polaroid style, or print them onto different materials such as canvas, aluminum, bamboo, or Lucite. To celebrate, the store is hosting a Stars & Strips photo contest. Send your best pic to union@myfotobar.com for a chance at a $250 store gift certificate. Opens Monday. Union Station, 50 Massachusetts Ave., NE.
DC MeetMarket
More than 40 local designers, artisans, and food vendors gather together to peddle their wares at this monthly market in Logan Circle. This month, check out jewelry, accessories, clothing, and furniture from featured designers Jon Wye, Third + Grace, Diament Jewelry, Yakitoko, and Iberis, among others. A family-friendly rock band will perform. Saturday 11 to 5. 1514 15th St., NW, in St. Luke's Church parking lot.
Seersucker Social
For the fourth year, vintage-loving social group Dandies & Quaintrelles hosts its annual Seersucker Social and associated bike ride. This year, the event can only be accessed by joining the group as a member—but top-level membership gets you access to the badminton-and-croquet-filled festivities, plus a picnic lunch, four drink or dessert tickets, picnic blankets, entertainment, and shuttle transportation to the event. The event is only open to the first 500 guests (and last year the 1,000 tickets sold out), so move quickly! Side note: Proper Topper is offering 20 percent off full-price clothing and accessories if you mention that it's for the event. Sunday. Location to be announced the day before. $25 to $45. For more details and membership, vist the Dandies & Quaintrelles site.
Summer Sales
Bishop Boutique: The Alexandria shoe and accessories shop discounts selected items up to 30 percent starting on Thursday.
Gossypia: The Old Town boutique discounts all of its items 20 percent, today through July 21.
Relish: The Georgetown designer boutique kicked off its seasonal sale on Friday—head to Cady's Alley to score the likes of Marni, Dries Van Noten, and Jil Sander at 30 to 75 percent off.
Sassanova: The accessory boutique's Semi-Annual Insane Sale means that all the store's designer shoes are discounted 40 percent.
South Moon Under: Take an extra 25 percent off already-on-sale merch.
United Colors of Benetton: The chain's three local stores offer up to half off spring and summer wares.
Urban Chic: This week, take 20 percent off any clothing item in the red-white-blue color palette in celebration of July Fourth—plus 15 percent off clothing in any other hue.
Zoe Boutique: The Old Town boutique started its summer sale today with 30 percent off all spring/summer items. The markdowns increase as the month continues.