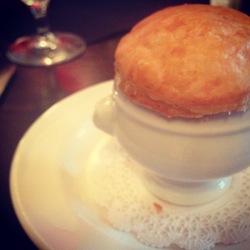 Béarnaise, a new steak house from Spike Mendelsohn and sister Micheline, opened this weekend on the same block of Pennsylvania Avenue, Southeast, that's home to the businesses they run with their parents: Good Stuff Eatery and We, the Pizza. (Good Stuff also has a location in Crystal City and two more planned in Georgetown and Philadelphia.) The process involved in the making of the new place, inspired by l'Entrecôte Saint-Jean in Montreal, was well documented in the first season of Life After Top Chef on Bravo.
Here are five things you can expect at the new spot.
A prix-fixe menu and a separate bar menu
While Béarnaise is a sit-down bistro, costs and menu are as simple and deliberate as those at a quick-serve spot. The core of the menu is a two-course prix-fixe at three price points. An eight-ounce flatiron with caramelized shallots will run you $28, or you can upgrade to a 14-ounce rib eye for $38. Eight ounces of filet mignon costs $42. Each of these prices includes a first course—house salad, Gruyère-coated onion soup, or a soup of the day such as vichyssoise. Pick one sauce; options are béarnaise, spicy béarnaise, au poivre, bordelaise, and maître d'hôtel butter. French fries—there were mixed reports from restaurant staff on whether they are fried in duck fat—are unlimited. A vegetarian option includes slabs of portobello in place of steak; the meat-free fries are definitely not cooked with duck fat.
À-la-carte side choices begin with tartiflette—a decadent casserole of potatoes with bacon, Reblochon, and cream sauce. Richer still is a slab of roasted bone marrow with salt and parsley. Crispy Brussels sprouts with bacon and béarnaise are no less indulgent; silky slabs of roasted portobello mushroom are the fourth, and lightest, option. A $12 cheese plates includes selections from executive chef Brad Race, who once toiled alongside Spike in the kitchen of Le Cirque.
Four options present themselves at dessert time. There's a seasonal tart, profiteroles with chocolate sauce and vanilla ice cream, and a mousse aux trois chocolates topped with chocolate brownie. But the breakout star is likely to be the praline crème brûlée topped with hazelnuts.
The bar menu consists of six dishes, including an escargot served in a little stemmed bowl with a pastry dome on top. There's also sliced steak frites, moules frites in the style of Normandie with white wine sauce, maple-glazed foie, and frogs' legs. The cheese plate is also on offer at the bar. Those dishes range in price from $12 to $18. Raw oysters are $2.50 each, $16 for a half dozen, or $30 for a dozen.
Ladies on the wall
In the restroom, the sketched heads of forlorn ladies with Victorian hairdos stare back at you. A painting of Coco Chanel hangs in one of two upstairs dining rooms—a piece collected by Micheline and her mother during an art-buying trip in Paris. Look out for Brigitte Bardotte in the bar area.
Many French things
Designer Bess Pappas—who also decked out Mendelsohn's two fast-casual spots down the street—stuffed this space with Frenchified accents such as checkered floors, smoked-glass wall hangings, bubble-shaped wall sconces, and ceiling lamps that emit a yellow glow. The bar, painted black, is topped with a slab of marble. Next to it is a photograph mural of one of France's famous "course de garçons"—a waiter's race in which servers try to beat each other to a finish line while balancing a tray with cocktail glasses and bottles.
Uniform wine pricing
Mendelsohn created a wine list on which all bottles were $40. (There's also a 13-bottle list of reserve wines priced between $65 and $400.) The idea, he says, was to allow guests to stop worrying about the cost of the wine and pick what they like. The wines—all value French bottles except for an Alberto Furque Malbec from Argentina—retail between about $10 to $16, so if you want to make the most of the deal you might do a little internet sleuthing beforehand. By-the-glass offerings are all $10.
A short cocktail list
This is divided into seasonal drinks and "les originaux." Among the latter is a Fleur martini with pear-flavored Grey Goose, St. Germain, and fresh-squeezed grapefruit juice. House cocktails are $10, and and $8 punch changes with seasonal ingredients. See the list of draft and bottled beers on the full bar menu.
This many seats
80: Spread out over the dining rooms on the restaurants two levels
12: At the bar
20: Out front on the patio.
Béarnaise. 315 Pennsylvania Ave., SE; 202-450-4800. Open Monday through Saturday 11 to 11.
You might also like: