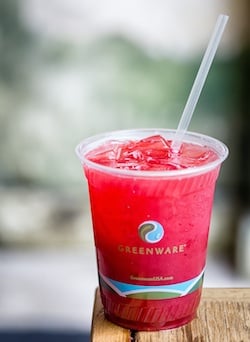 "Making an agua fresca can be a really simple affair, especially when you have high-quality fruit," says Ann Cashion, co-owner of Taqueria Nacional. (She also co-owns and cooks at Capitol Hill seafood favorite Johnny's Half Shell). So when mixing up drinks for your Fourth of July barbecue, skip the dyed red, white, and blue drinks and go with something naturally festive and fully refreshing: strawberry agua fresca, like the one you'll find at the newly opened 14th Street taco spot.
At the restaurant, Cashion uses locally grown strawberries for the drink. Since strawberry season is nearing its end, she suggests adding fresh blueberries or raspberries or subbing out the strawberries altogether. If you opt for commercially grown strawberries, Cashion suggests adding more sugar for sweetness, though don't overdo it—aim for one cup at most.
Another perk of this recipe: You can whip up a pitcher in advance for your party—just keep it chilled—and serve it with booze on the side for a mixed-age crowd. Just add one and a half ounces of your favorite light rum or tequila to your glass and stir for a more potent drink.
Strawberry Agua Fresca
Makes one pitcher
6 pints of ripe strawberries (preferably locally grown), washed, and stems removed
¼ cup sugar, or more to taste
1 cup filtered water, or more to achieve desired consistency
Optional: A bottle of your favorite light rum or tequila
In a blender, purée the strawberries with some sugar and 1 cup of water. Check for sweetness and add more sugar if desired.
Transfer the purée into a larger container and stir in more water until you achieve the consistency and concentration that you want.
Strain the mixture into a pitcher to remove some of the seeds and chill until ready to serve.