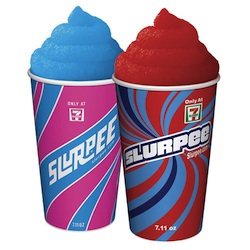 I spent the July Fourth weekend in the Pennsylvania town where I grew up, hanging out with lifelong friends who now live in New York City. During a sweltering stroll through the old neighborhood, one of my pals remarked that "at least there was one good thing" about living in Washington. (New Yorkers—am I right?)
Our city is chockablock with 7-Elevens.
It isn't the easy access to Zig-Zag "cigarette" wrappers or the cheeseburgers stretched into hot dog form that inspired my friend's sort-of envy. It is Slurpees—the icy sugar bombs that so strongly invoke the hot-and-hazy summers of our suburban youth, when life was so thoroughly uneventful that an entire afternoon might center on a slow shuffle to the convenience store. So cheap that you could usually find the coins to pay for them underneath a couch cushion or cluttering a laundry room shelf, Slurpees had a sweet, cooling effect that beat out any other beverage. In college, I heard tales of people spiking Slurpees with rum and vodka, but I refused to adulterate the swirling quencher in such a base manner. Slurpees, I lectured, were for curing hangovers, not causing them.
On Thursday, July 11—7/11, that is—the chain celebrates its 86th birthday. And you know what that means: one free small Slurpee for you. Participating stores will be giving away the goods from 11 to 7 on that day; I suggest you go early, because the offer is only available while supplies last. And as anyone who has ever attempted to secure a Slurpee at a local 7-Eleven can attest, supplies have a way of not lasting. I have often encountered a Slurpee-making apparatus completely empty of Technicolor concoction. And on more than one occasion I have reeled back in horror when a syrupy sludge oozed into my oversized plastic cup—nothing can ruin your appetite for a Slurpee like witnessing it in early form. The right course of action, I should think, is to head to the best-maintained franchise you know. Featured flavors in July and August are Lite Sugar-Free Mango Lemonade and Strawberry Lemonshade. Personally, though, I'm partial to a 50/50 mixture of Fanta Wild Cherry and Coca-Cola. It's a childhood thing.