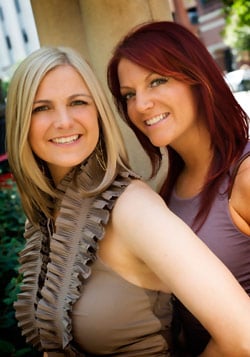 Perhaps hair genius just runs in the family. Stacy Dabney Ramirez and Lindsey Dabney Cabrera may be sisters first, but they're also co-owners of Bella Bethesda, which last year made the grade as one of Washingtonian's "hidden gem" salons. Stacy, a former elementary school teacher, manages the salon, while industry vet Lindsey acts as lead stylist and creative director. We asked the pair to share some of their hair-care essentials, and they delivered with a set of must-haves that range from vitamins to summer strand savers. Read on to see their picks.
1) Phytoneutre Clarifying Detox Shampoo
Lindsey says: "An essential product for summer, Phytoneutre helps cleanse your hair from chlorine, hard water, or product buildup. I use it once a week in conjunction with my regular shampoo/conditioner routine." $22 at Bella Bethesda.
2) Redken Diamond Oil Shatterproof Shine
Stacy says: "This is a one-stop-shop kind of product. It can be mixed with your conditioner in the shower, used on wet hair before a blow-dry, added to dry hair to repair damaged ends, put in as a night treatment, and used on your cuticles and dry skin to moisturize. Need I say more?" $40 at Ulta.
3) PhytoPhanere Hair & Nail Supplement
Stacy says:
"Multivitamins don't always come to mind when you're thinking about your
hair routine, but I am a huge fan of these because they don't make my
stomach upset, even when I take them without food. After recently having
a baby, these are a necessity for me; great for hair and nail growth."
$59 for a two-month supply at Sephora.
4) Pureology Essential Repair Colour Max
Lindsey
says: "I use this spray all summer to give my hair UVA/UVB protection. I
like this product because your hair can be dry or wet, so you can use
it on second-day hair or after coming out of the pool." $24 at Ulta.
5) Redken Extreme Anti-Snap Leave-In Treatment
Stacy
says: "I use this leave-in conditioner to guard against DC's humidity,
which strips away moisture, causing the dreaded frizz. It really helps
fortify your hair to make it look and feel healthy." $15.99 at Ulta.