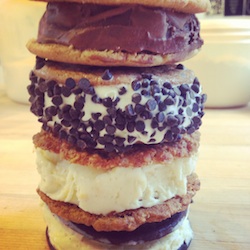 In this new series, the Washingtonian food team—four people who spend an impossible amount of time in local restaurants—share the best dish we've dined on in the past seven days. The occasional cocktail or other beverage could slip in here, too. Ever the critics, we may well switch it up and do a Worst Thing I Ate This Week from to time to time. But for this inaugural edition, let's focus on the positive.
Todd Kliman
Manti at Rus Uz
I loved these pillowy, palm-size dumplings topped with seasoned ground lamb, sour cream, and chives. Hearty, rich, eminently satisfying—and yet, here's the remarkable thing, the thing that makes Rus Uz a restaurant you crave to return to: not at all heavy.
Ann Limpert
An ice cream sandwich from Baked and Wired
I didn't pick the most exciting flavor—it was a riff on a standard Chipwich, with thick vanilla ice cream and chewy, brown-buttery chocolate chip cookies—but it was a wonderful respite on a very, very hot day in Georgetown. And my dog got a treat, too—she loved the bakery's bacon-and-cheese biscuits so much I later caught her trying to sneak off with the Chinese-takeout-style box hanging from her mouth.
Editor's note: These sandwiches, new to Baked and Wired, currently come in four flavors. Ann had the Bakedwich. There is also a Peach Crisp with oatmeal cookie and peach ice cream. The Classic combines chocolate wafer cookie and vanilla ice cream, and then there is the PB Chocoroo—a peanut butter cookie with chocolate ice cream.
Jessica Voelker
A lobster roll at Azur
I snuck into Frederik de Pue's seafood spot for a little lunch late last week and discovered my new favorite lobster roll. The toasted brioche is baked in house and snuggles tender hunks of poached claw and tail meat dressed lightly in garlic aïoli and studded with onions and celery. The chive-topped sandwich—I meant to take half home (it was a multi-course meal) but devoured the entire thing—came with a side of mini chips made from red bliss potatoes. The dish went mighty well with a simple rosé from Italy's Abruzzo region.
Anna Spiegel
Steamed spiced shrimp at Rappahannock River Oyster Co. in Union Market
Peel-and-eat shrimp can be a pretty lackluster affair in DC (rubbery, lukewarm), but this cooked-to-order version is addictive: super-fresh, hot shrimp coated in an Old Bay-like spice and what must be a few pats of butter. An expertly made martini alongside only makes them better; there's also cold beer for traditionalists.