Sandy Malone, a Washington-area native and the owner of Weddings in Vieques, the only wedding-planning company based in Vieques Island, is set to star in TLC's new wedding reality series Wedding Island. Set to premiere tonight, the show follows Malone and her crew, which includes her SWAT team commander-turned-wedding-staffer husband, as she navigates through the challenges of planning a successful destination wedding on an island where "nothing is simple and everything is complicated."
Following a successful career in political journalism, public relations, and public affairs, Malone switched to wedding planning after her own nuptials on Vieques in 2004. When the event planner she hired let her down, Sandy took matters into her own hands and did it herself in under three months. "We didn't get to relax and have fun the way brides and grooms should," says Malone, who bought a home in Vieques and founded her company soon after. Since then, Malone has launched Weddings in Culebra, an event planning company on Vieques's sister island; Flowers in Vieques, a floral firm; and Boutique in Vieques, a clothing and home decor store, becoming one of the largest employers on the island.
We caught up with the wedding-planning guru, who now splits her time between her home in Vieques and her condo in Germantown, Maryland, to get the scoop on the new show and how to plan an incredible destination wedding.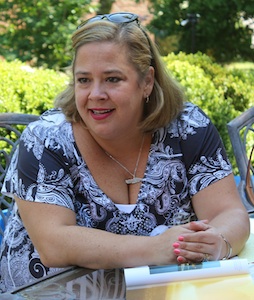 How is Wedding Island different from other wedding reality shows?
All the other wedding shows are 90 percent about the brides and what's going on with them. And when you have shows that involve wedding planners, there is not a lot of insight into the wedding planning. This show is the reverse. It's about how we plan weddings in Vieques and what really happens inside a wedding-planning company to make the day come together.
What makes Vieques Island unique?
Vieques Island has one of the most beautiful and brightest bioluminescent bays [a bay populated by micro-organisms called dinoflagellates that glow at night] in the world. There are only seven bioluminescent bays in the world. Also, unlike other islands in the Caribbean, where most of the beaches are surrounded by rocks, Vieques Island is surrounded entirely by white-sand beaches. It's a gorgeous place.
What are some of the biggest challenges you face on the show?
My challenge every single day is to build a bridge between an average North American bride, who is going a hundred miles an hour and functioning on American time, and local vendors, who go by island time, which means things get done when things get done. Mañana doesn't mean tomorrow. It just means not today. You have to manage the bride's expectations. . . . It doesn't mean the wedding can't be as elegant or as sophisticated and totally reflect the bride's taste and style—it just means expectations have to be adjusted.
What can viewers expect from the show?
Every episode will follow two weddings and two couples from when they first arrive on the island to through their wedding. It shows some of the wedding-planning process, but it also shows what my crew does—whether it's building and prepping for the wedding, meeting the clients, or getting them oriented—as well as the crises that happen behind the scenes. Something goes wrong at every wedding. In a hundred million years you couldn't script what went down. As my husband and I like to say, "If it starts to make sense, you are not in Vieques anymore."
What was it like to film a reality show based on your life?
I didn't know what I was getting myself into. There is no book that tells you how to be a reality television persona. You only know what you watch on television. I couldn't compare to other shows like Real Housewives because I knew I wasn't going to be sitting in an evening gown with full makeup doing interviews. The show is about a fully operating business, and I am a normal person who works 80 to 100 hours a week to make sure her clients get exactly what they want on their wedding day. We left the production company to see everything—the good, the bad, and the ugly. Which means that you see me sweaty and gross, and you see me running around a lot. One of the girls calls it going into ninja mode.
What's the most important thing when planning a destination wedding?
The first critical thing is working with a wedding planner where you're getting married. You can hire people who say they are destination planners, and some of them are very good at what they do—but at the end of the day if they are not there on location and don't know the area well, they cannot be the bride and groom's advocate.
The second thing is that people think in order to have a destination wedding, you have to be at some big all-inclusive resort, and that's not the case. You don't want a cookie-cutter wedding at a big resort where you are the third bride to walk down the same aisle and have only a few options to choose from in terms of cake and flowers. You are not going to spend more money having a wedding that reflects your taste and style if you go to the right place.
Wedding Island premieres Wednesday at 10, with the second episode airing the following evening in its regularly scheduled time slot, Thursday at 10. Preview the first episode online.