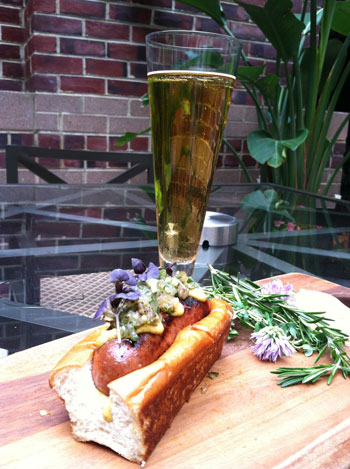 We've officially entered the most relaxed month of summer, and even the ritzy Bourbon
Steak is getting into casual mode. Last year's Dog Days deal returns to the lounge this Wednesday through August 29, meaning you can belly up to the bar for a pint and
a hot dog for a mere $9.
Newish toque
John Critchley is going beyond the ballpark frank with the A5 Wagyu Dog, a blend of the restaurant's
A5 Miyazaki Wagyu—the highest grade of the Japanese beef that typically goes for $35
per ounce (yowza) in the restaurant—with lean beef shoulder and foie gras trimmings.
The grilled dog gets stuffed into a butter-swiped bun and topped with smoked onion-cucumber
relish and yellow mustard. The under-$10 deal includes a cold Port City brew, but
we may just splurge on an additional piña colada from barkeep
Duane Sylvestre to channel those true summer vibes.
The Dog Days deal is available in the lounge only, Monday through Thursday 11:30 to
10 and Sunday 6 to 10.