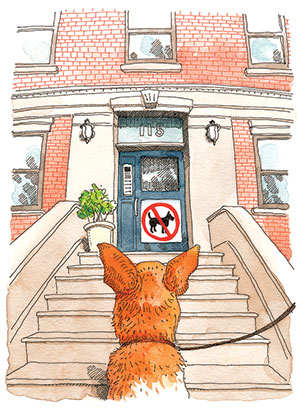 Sarah Valencia had a lot on her mind when she finished graduate school last year in Louisiana. She was about to start a job at the National Institutes of Health in Bethesda, and her English bulldog, Fiona, was complicating her plans. Without the time or money to hunt for apartments in person, Valencia searched online. She wanted to find a place close to work, but after contacting about 20 apartment complexes, she realized she had a problem. While her heeler mix, Chester, wasn't an issue, no one would rent to her because of her bulldog.
A controversial decision had recently been handed down by a Maryland appeals court, defining pit bulls as "inherently dangerous." Valencia found that landlords were now wary of allowing any breed that even vaguely resembled—or in her case, sounded similar to—a pit bull. Desperate, she began Googling for someone who could help. Her search led her to Jill Barsky, a real-estate agent licensed in DC, Maryland, and Virginia who bills herself as "the pet friendly realtor." Valencia e-mailed Barsky and hoped for the best.
From the start of her 23-year career, Barsky recognized that her passion for animals could be an asset. Clients with pets often face specific challenges, including landlords and homeowners' associations reluctant to welcome animals. Many people need to do extra research, such as finding out which neighborhoods allow homeowners to fence their yards. Barsky, who adopted her first dog at age seven and now has ten rescue dogs, also knew that some pets require special considerations—elderly dogs and cats, for instance, frequently need homes with few or no stairs. She decided she'd tailor her business to finding homes for other pet lovers and donate a portion of her commissions to the rescue group of each client's choice.
With the US pet industry on track to hit $55 billion in sales this year, according to the American Pet Products Association, people clearly love to pamper their animals. The Pet Realty Network, in Florida, offers an online directory of agents throughout the country who focus on finding homes for clients who want to meet their pets' needs.
Barsky has worked for people with a range of animals, from ferrets to horses. The latter come with particularly tough requirements. Before buying a property, horse owners must work out with homeowners' associations how many acres are required per horse and what type of guidelines they have to follow if they need to build an extra barn. Many of Barsky's clients with horses have picked properties in northern Potomac and Poolesville.
Most of her clients, however, have dogs, and they want neighborhoods with plenty of parks and walking paths. Capitol Hill's Lincoln Park and the Shirlington Dog Park in Arlington have both proven popular.
Barsky says the most important advice she gives pet owners is to read the lease or homeowners' documents of any place they're considering: "You don't want to get locked into a place and not be able to keep your pet. Don't take someone's word about a rule. Make sure you have it in writing."
Barsky was the lucky break Sarah Valencia needed. Within hours of receiving Valencia's e-mail, Barsky responded with a list of potential apartments. Because Barsky already had relationships with landlords and management companies, she was able to find several places willing to take a bulldog. With a month to go before her move, Valencia left her search entirely up to Barsky, who looked at about a half dozen apartments before finding a light-filled two-bedroom close to NIH that seemed perfect for her client.
Valencia, Chester, and Fiona moved in last November. Valencia says the three of them love their home. The dogs in particular appreciate that it's just a short drive to Black Hill Regional Park, their new favorite place to explore.
This article appears in the August 2013 issue of The Washingtonian.