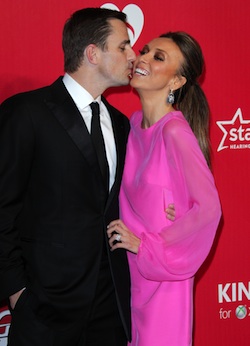 The sixth season of the Style Network reality television show Giuliana and Bill debuted in July, and an early episode includes a trip to Washington, DC, to scout spots for a forthcoming location of RPM Italian, the starring couple's Chicago-based restaurant.
For those unfamiliar with red-carpet coverage, celebrity news, or reality television (hi, Dad!), Giuliana and Bill are Giuliana and Bill Rancic. She is an E! network superstar; he won a season of The Apprentice. Their television show documents daily events such as their quest to find a perfect pediatrician for their infant son and that one time Giuliana's assistant planned a shower for her friend.
In 2012, they debuted restaurant RPM Italian in Chicago's River North neighborhood, a collaboration with Lettuce Entertain You Enterprises partners Jerrod, Molly, and R.J. Melman. (Lettuce Entertain You is the parent group behind Maggiano's, Corner Bakery, and all these places.) Early reviews were not good, but RPM eventually earned accolades from the likes of Chicago magazine critic Jeff Ruby, who praised, among other things, the "confident servers" and "killer steaks" at the restaurant, where a "giant" menu is divided into 17 sections. A recently aired episode of Giuliana and Bill showed Bill hitting Penn Quarter with local developer John Asadoorian in search of a Washington home for RPM; he also plans to move it into Las Vegas. We checked in with Asadoorian on the status of the project; he says the owners are negotiating a deal on one possible site and should know within the next month whether it goes through.
So what inspired this expansion into Washington? Well, the booming restaurant market is the obvious answer, but, back in February, the First Lady did go on record as saying she "hoped" RPM would open a location here.
We have a call in with Lettuce Entertain You and will follow up with more details about the Washington branch as they emerge.