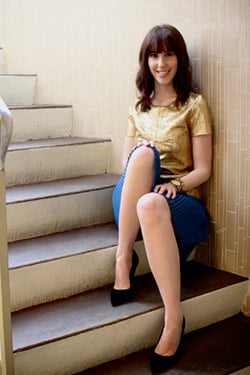 As the blogger behind the DC-based beauty site Politics of Pretty, Kara Manos makes no bones about the fact that she's a bona-fide product junkie. She's tried 'em all. Which begs the question: Which products hold rank on her list of all-time faves? We chatted with Kara to get the scoop on her beauty essentials.
1. Benefit Cosmetics Stay Flawless 15-Hour Primer
Kara says: "I always thought the best primers came in liquid form . . . and then Benefit came out with this ultra-easy push-up stick formula. Now I've converted. My makeup stays intact way beyond the eight-hour workday." $32 at Macy's.
2. Alchimie Forever Gentle Refining Scrub
Kara says: "This gentle
exfoliating scrub is a twice-weekly ritual I love to indulge in to help
brighten my complexion and even out my skin tone." $45 at Alchimie Forever.
3. Revlon Colorburst Lip Butters
Kara says: "Bright lips are my
thing, but it's hard to commit to them in hot and humid temperatures.
These tinted lip balms are a great alternative because you still get a
pop of color without the heavy formula." $6.49 at Target.
4. Stila Stay All Day Waterproof Liquid Eye Liner
Kara says: "I've been practicing my cat eye for fall, and this felt-tip marker glides on smoothly without smudging." $20 at Sephora.
5. Butter London 3 Free Nail Lacquer in Macbeth
Kara
says: "This is my go-to polish for summer. A coral hue on my digits
always brightens up days spent at the keyboard." $15 at Ulta.