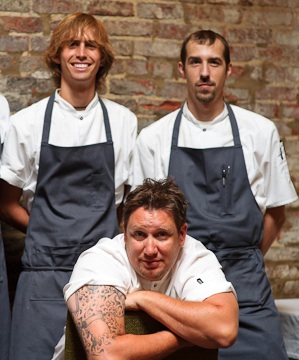 We've been curious about the progress at Gypsy Soul, the upcoming Merrifield restaurant from Rogue 24 toque R.J. Cooper. Turns out "progress" is a relative term; Cooper tells us the opening is still up in air, as the permitting and plans his team has submitted are held up in the approval process. Still there's plenty of movement, concept-wise, for the two-story space.
Menu
Don't expect Rogue's highly conceptualized dishes or tasting menus filled with haiku-esque descriptions like "steelhead/the creek bed." Cooper says the 145-seat dining room menu will be broken down into categories such as "offal," "snacks"—think pimiento cheese with house-made Ritz-style crackers—"oceans/lakes/rivers," "farms/pastures/ranches," and "the pig." As you can probably tell from those names, ingredients will drive much of the preparation. There will also be a section devoted to "communal food," though no small plates; think shareable items like a 60-ounce rib eye or roast suckling pig. Cooper describes the fare as "modern interpretations of regional cooking," and expects the lineup to change frequently based on what's available from purveyors. Come lunchtime, look for more salads and sandwiches for the Mosaic District shopping crowd, and brunch on the weekends.
Roof deck
The bilevel restaurant will boast one of the larger roof decks in the area, with space for about 80 guests. The menu will be wholly different from the floor below, with an emphasis on smoked and grilled dishes prepared with a custom-built machine from GrillWorks (Bon Appétit editor Adam Rapoport calls them "the Ferrari of grills"). Cooper says he plans to use different types of wood for the amped-up grill, which is armed with chamber ovens, flattops, and two types of rotisserie.
Cocktails
Rogue's "bar chef," Bryan Tetorakis, will also be in charge of the libations at Gypsy Soul. Downstairs you may find spins on regional cocktails, while upstairs the theme goes al fresco. Cooper says drinks could be inspired by all manner of outdoor boozing, from tiki-style cocktails to riffs on refreshers you'd sip during picnics and barbecues. Specialty sodas are also in the works.
And what's with the name?
No, the Harley-driving Cooper isn't big into the California-based Celtic/soul band of the same name. He says the gypsy reference ties into travel, while "soul" nods to the depth and experience of eating.