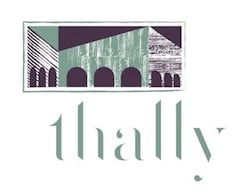 We've been keeping close tabs on Thally, the soon-to-open Shaw restaurant from owners Sherman Outhuok, Paolo Sacco, and chef Ron Tanaka, last at New Heights in Woodley Park. Sacco, who owns Ristorante Tosca, employed Outhuok behind the bar at Posto, which he also owns.
Today, the Thally team sends word that the restaurant will open around Tuesday, August 27. (It will be closed on Mondays.) They also shared the restaurant's debut menu—short and simple, it's composed of first and second courses, plus beer, wine, and "Thallytails"—cocktails developed by Outhuok, who also tended bar at Maple in Columbia Heights. Outhuok will also be doing house-made 'cellos in flavors like grapefruit and orange. The restaurant specializes in by-the-glass wines: There will be a list of 24, and six will switch out each week so customers can keep trying new bottles.
Among Tanaka's list of starters are a salad of grilled peach, crisp prosciutto, spiced cottage cheese, Bibb lettuce, and balsamic, and a carnitas sope featuring pork shoulder, red chile sauce, epazote, and radish. Main courses include grilled branzino with eggplant caponata, basil, and piquillo jus and roast duck with artichoke, greens, and black olive sauce.
Logo and wall graphics are the work of designer Matthew Hlubny. The restaurant has exposed-brick walls, reclaimed wood, and hardware salvaged from a "vintage barn door." Seats are leather; tables are wood and steel. The 28-foot bar is made from black granite and has leather finishes.
Thally is located on Ninth Street, Northwest, next to Seasonal Pantry in an area of Shaw many are calling "the next 14th Street." Neighbors include A&D Bar, Table, the Passenger and Columbia Room, Hogo, and Corduroy. Mockingbird Hill is a short jaunt away on Seventh street—it will soon be joined by Eat the Rich and whatever super-secret project Derek Brown is conjuring up for his third effort on that block. Planned nearby projects include a location of Fishnet, a beer garden called Dacha, and brew pub Right Proper. In short: It's blowing up.
Thally. 1316 Ninth St., NW; 202-733-3849.