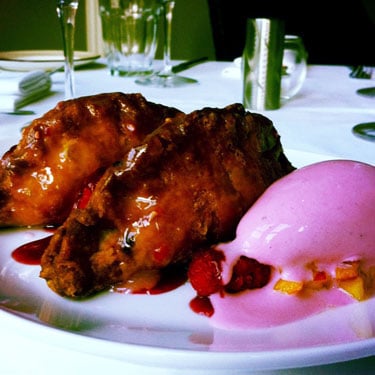 If you've been to the farmers market lately, you know peach season has hit full stride.
Take advantage of the sweet, ripe fruits with a hand pie recipe from NoPa Kitchen
+ Bar pastry chef
Jemil Gadea.
Don't be intimidated by the recipe's multiple steps—they yield various rewards. Macerating
the peaches makes an abundance of filling, which you can use to top ice cream, mix
into smoothies, or even incorporate into a savory dish (peaches and spice-rubbed pork
loin comes to mind). The liquid that's drained from the fruit mixture before you make
the pies is also a tasty side product; treat it like peach simple syrup to use in
iced tea or cocktails, or reduce it with some fresh raspberries for sauce. Gadea is
partial to the stone fruits from
Black Rock Orchard, which sets up stalls at local farmers markets like the Penn Quarter FreshFarm Market
on Thursday and Dupont on Sunday.
Gadea's number-one tip for recreating NoPa's dessert: Don't overstuff the pies. Filling
them beyond capacity will make them leak in the fryer and disintegrate. Serve them
with vanilla ice cream for a classic summer treat.
Peach Melba Pies
Makes 5 to 6 individual pies
For the pie dough:
1¾ cups flour
1¼ sticks cold butter, cut into ½-inch dice
¼ egg
2½ tablespoons cold water
1¼ teaspoons salt
2 teaspoons sugar
For the macerated peach filling:
2¼-pounds ripe peaches, diced
2 pints raspberries or red currants
1 pound sugar
1 vanilla bean
2 hibiscus tea bags or ¼ cup whole dried hibiscus flowers
Ascorbic acid (vitamin C), available in most grocery stores.
For finishing the pies:
1½ pounds macerated peaches (see above) drained, liquid reserved
5 ounces sugar
2 tablespoons arrowroot or cornstarch
1 egg and 1 cup of milk (for the egg wash)
Special equipment:
A fryer or heavy pot with a thermometer
Make the dough:
Cut the diced butter into the flour until nearly all of the butter is no longer detectable.
Mix together the water, egg, salt and sugar until the egg is broken and the sugar
and salt are dissolved.
Make a well in the flour/butter mixture and pour in the egg mixture.
Do not knead this dough. Instead, run your fingers through the dough to combine everything
while making sure that there are no dry or wet spots. Think fluffing up and separating
the dough instead of mashing it together. This process will take a few minutes but
it will come together nicely.
Once the dough is evenly hydrated, press the dough into a package and chill until
cold and firm before rolling it out. The dough can be kept packaged (not rolled out)
in the freezer up to a week.
Macerating the peaches:
Preheat the oven to 200 degrees.
Once the peaches are cleaned and diced, put them into a large, nonreactive container,
such as a casserole or baking dish. Add the raspberries and sprinkle the sugar over
them. Mix in the vanilla bean—split and scraped—hibiscus tea bags, and ascorbic acid.
Place the container in the oven, uncovered, and let cook on low heat for at least
1 and up to 2 hours (the fruit should be nearly translucent). It is important to leave
the peaches in the oven until they are cooked enough so that they will not turn brown
when cooled. They should still have their shape and not have turned to a purée.
Remove from the oven and allow the peach mixture to cool. Once cooled, drain the peaches,
remove the tea and vanilla bean, and reserve the liquid.
Finish the pies:
In a bowl, mix together all of the fruit with the sugar and arrowroot. Mix this gently
with your hands, being careful not to mash up the fruit. Transfer this to a wide,
shallow pot and cook on medium heat until the mixture gels fully, about 5 to 10 minutes.
Allow this to cool while you roll out the pie dough.
Roll out the pie dough with a rolling pin to a thickness of 1/8 to ¼ inch, using flour
as needed, but sparingly. Punch or cut out the dough with a ring cutter into 5-inch
rounds and chill, covered, on a plate or parchment-lined baking sheet until the filling
is cool enough to use.
Place as much filling as you can into the center of each round—about ¼ cup—while keeping
in mind that you need to close the pies. Brush the edges with an egg wash or milk
to seal them. You can do this one of two ways: Either fold the dough over until the
edges touch and press together with your fingers or a fork, making a half-moon shape;
or use two pieces of dough with the same egg wash and technique to make the crusts
stick together. This makes a round shape. Please keep in mind how large you make these,
since they are going into hot oil they will need to be handled with care.
If frying:
Heat your fryer or pour grapeseed or canola oil into a heavy pot on the stove until
the thermometer reads 350 degrees.
Fry the pies until golden brown, about 4 minutes.
If baking:
Preheat the oven to 425 degrees.
Lay out the pies on a baking sheet and bake for 10 minutes. Turn the oven down to
375, and bake them for another 10 to 15 minutes, until golden.