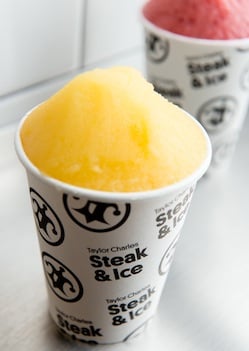 Immune to brain freeze? As a child, did you secretly binge on the sugary sludge that poured out of your Snoopy Sno-Cone machine? Then we think this might be the contest for you.
At this year's H Street Festival, Taylor Charles Steak & Ice, the steak and cheese spot from the owners of Taylor Gourmet, is hosting an Italian water ice eating contest. Held on the Gospel Stage at 3 PM on September 21, contestants compete to see who can consume the most water ice in five minutes.
The winner will receive a steak—a very large rib eye, according to press materials—and a $150 gift certificate to the H Street cheesesteak spot. Those in search of a serious sugar high can enter the event by e-mailing dr@taylorgourmet.com.
For more information about the daylong festival, which takes over the blocks of H Street, Northeast, between Fourth and 14th, head to this Facebook page.