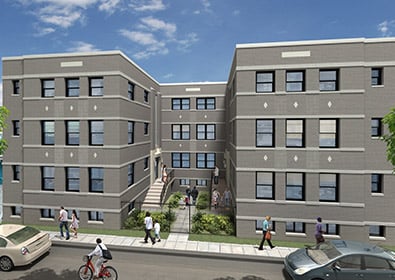 Rock Creek Realty is selling units in two condominium buildings on Otis Pl., NW in Petworth, not far from the cluster restaurants on 11th St. that the New York Times once gave the forehead slap-inducing appellation "Hip Strip."
One building is called "The Otis." Seems inoffensive enough, considering it matches the street on which it stands. But what is its neighbor called? "The Redding."
If you've finished groaning, here's how this jarring situation came to be. The buildings are being rehabbed from a run-down state by the development firm Fortis. Rock Creek Realty writes on its website that the apartments will be upgraded to include stainless steel appliances, Silestone countertops with glass backsplashes, dual-flush toilets in the bathrooms, and hardwood floors throughout.
But then there are the buildings' names. Fortis, Rock Creek Realty says, "seized the opportunity to bring the buildings back to life with the name of the legendary musician Otis Redding."
We might have an acute case of "swagger-jacking" here. Apartment buildings named for great African-American artists aren't a new phenomenon in DC. On U Street, one will find both The Ellington and the Langston Lofts.
But both Duke Ellington and Langston Hughes spent significant parts of their life in DC. Otis Redding was born in Georgia and produced music on Memphis, Tennessee's Stax Records.