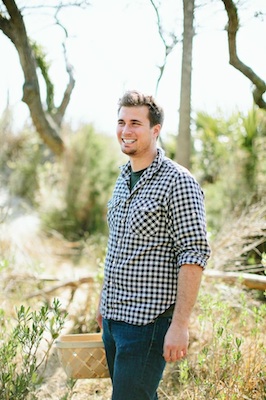 Yesterday brought word that McCrady's chef de cuisine Jeremiah Langhorne is leaving his post at the Charleston destination and opening his own restaurant in Shaw. Though a lease is still being negotiated (meaning everything could change), Langhorne shared a few details about his upcoming plans.
The chef was raised in the Washington area and the Shenandoah Valley, and says he'll regionally ground the restaurant.
"Food-wise, it'll be modern American cuisine, similar to what I'm producing now," he says. "I love the region—the Bay, the farmland—so I'll be focusing specifically on Virginia."
A self-described history buff, Langhorne plans to create dishes with a historical influence, drawing from old cookbooks and recipes for inspiration. Langhorne also plans for the kitchen to be modeled after a 19th-century cooking space like those at Mount Vernon and Monticello, complete with a modernized hearth. The large wood-burning fireplaces traditionally enable the preparation of multiple dishes at once, from cooking vegetables in the cooling embers to slow-roasting a whole rib eye. You may also find many items cooked in cast-iron pans, which Langhorne favors for their ability to create depth of flavor.
While McCrady's mixes a rustic ambience with white-tablecloth dining, Langhorne envisions a relaxed place embodying a "polished-casual feel."
"My plan in life has always been to under-promise and over-deliver, so hopefully we can do that," he says.