When Kari Lewis and Arash Ardalan first met, they didn't think that they were a good match. Arash found Kari really shy; Kari was nervous that they had a lot of friends in common. "Our best friends were actually engaged to each other," says Kari, a customer success manager. "I was very cautious because we had so many mutual friends, but there was definitely something that drew me to him." A first date at Arash's condo, where the groom, a capture manager, prepared a five-entrée meal because he "couldn't decide what to make," dissipated both of their fears, and a two-year relationship began.
To propose, Arash came up with a complicated plan that included telling Kari they were going to spend a weekend in New York, something he knew she wasn't exactly going to love. "I usually don't enjoy trips to New York City, and I had a terrible work week, so I was not in a good mood and I didn't want to go," says the bride. Right before they left to "catch their train," Arash surprised Kari by getting down on one knee and asking her to marry him. "After we celebrated and called our families, Arash informed me that we were in fact not going to New York, but that he did have a surprise getaway planned"—a relaxing and celebratory weekend at the Goodstone Inn in Middleburg, Virginia, filled with massages, walks in the country, and wine tastings. The couple's vintage-inspired wedding followed nine months later.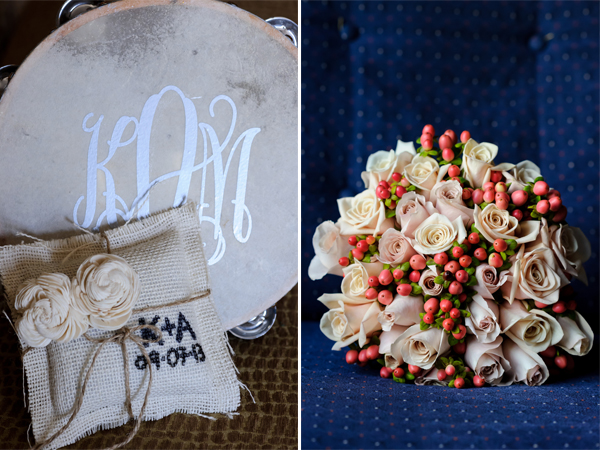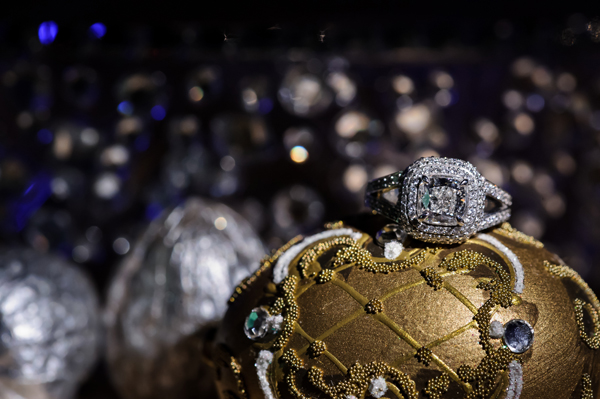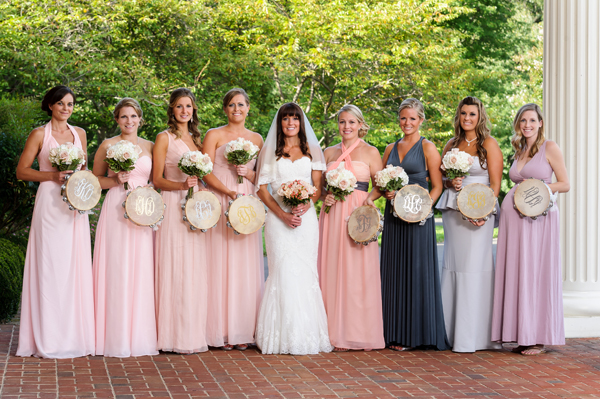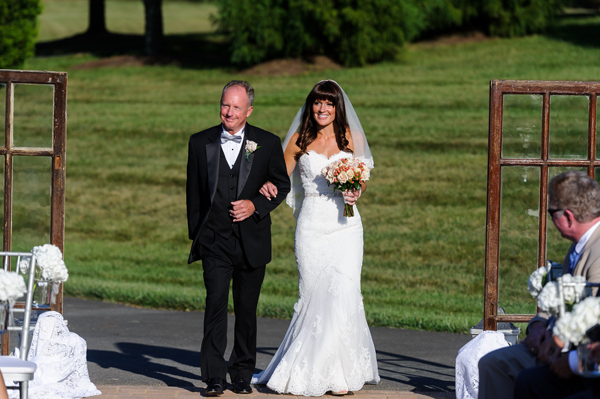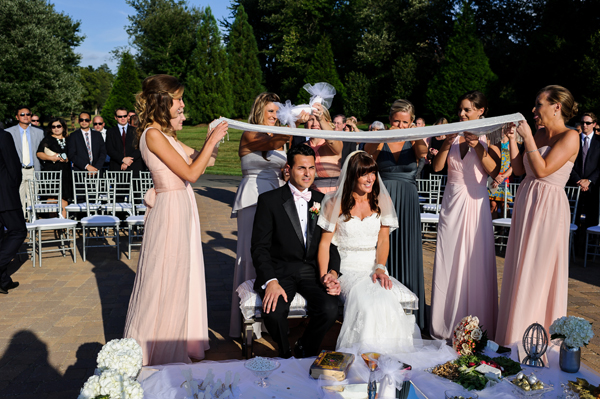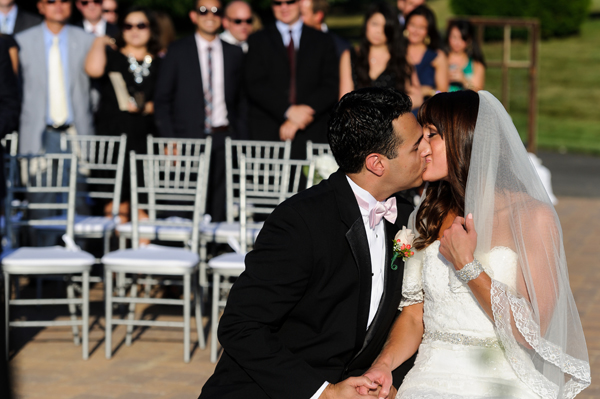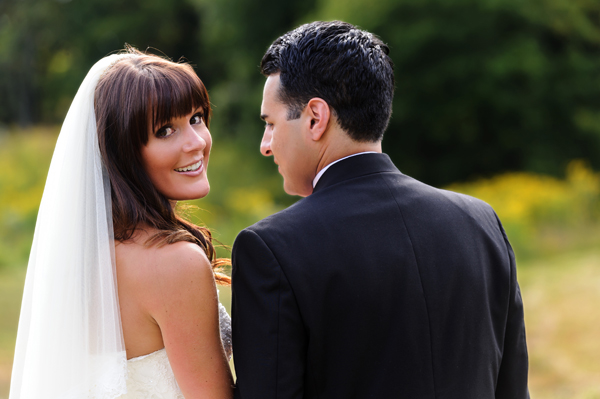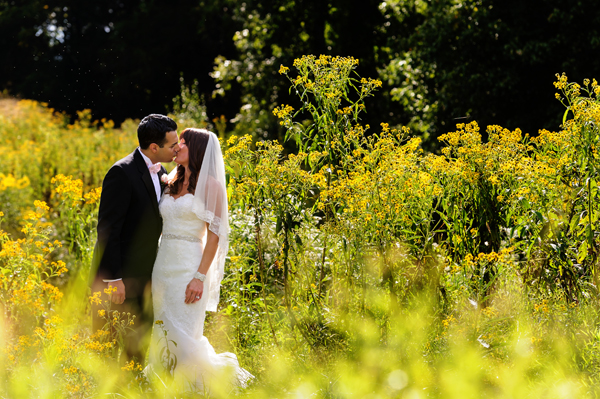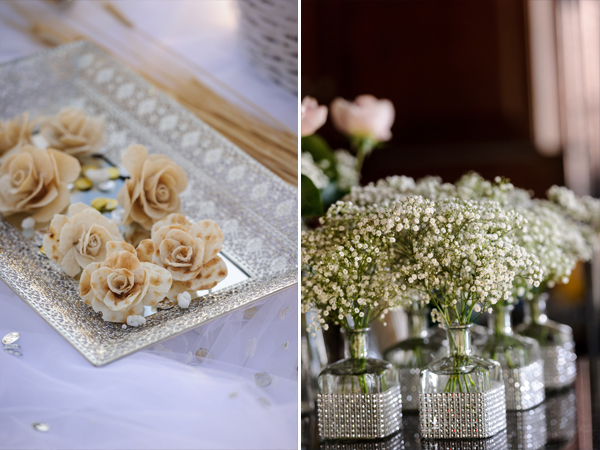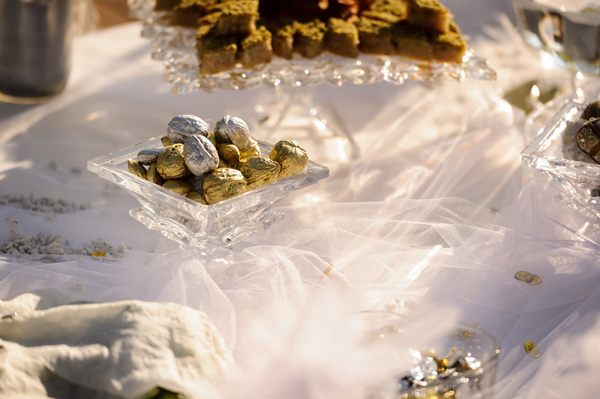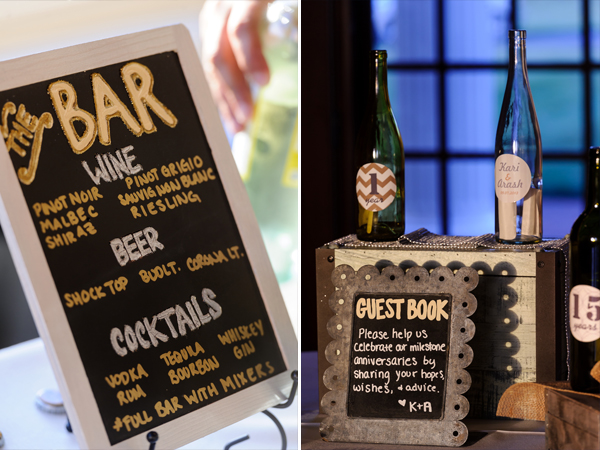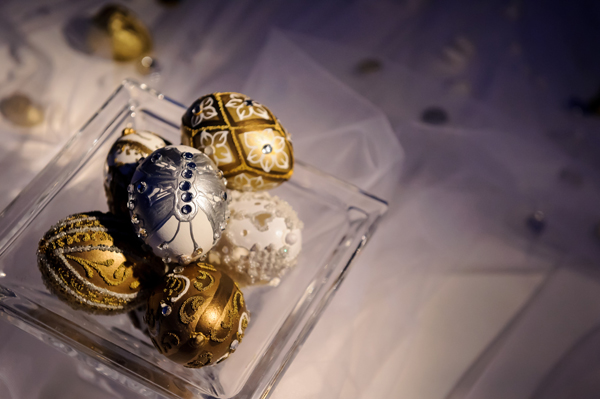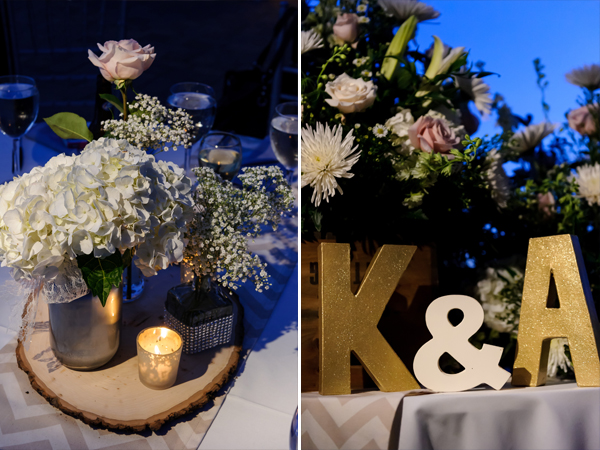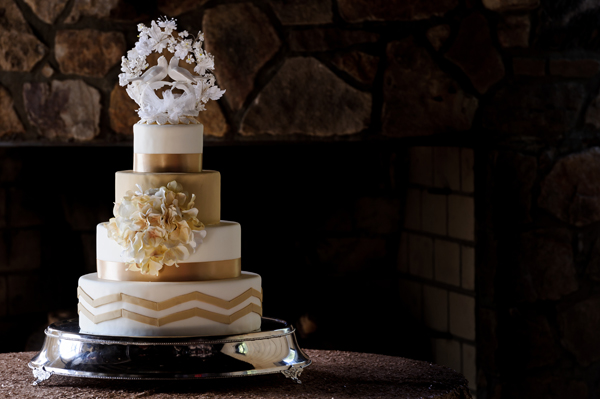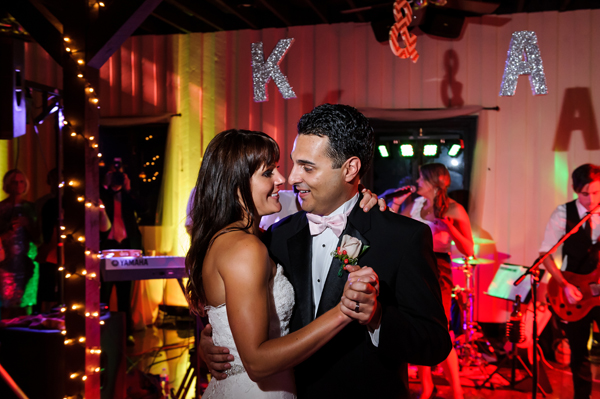 Details:
Photographer: Jennifer Cody, Egomedia Photography
Wedding Venue: Sunset Crest Manor
Event Coordinator: Lillian Lee
Bride's Gown: Pronovias, 4 Everly After
Hair/Makeup: Katie O'Neill
Groom's Tux: Ralph Lauren, Jos. A. Bank
Engagement Ring and Wedding Bands: Dominion Jewelers
Caterer: The Chef's Table, Johnny Kabob
Cake: Jimin Choe, Cakes by Jimin
Florist: Rick's Flowers
Wedding Flowers: Hydrangeas, quicksand roses, baby's breath, peach berries
Videographer: Matt Kenchington
Music/Entertainment: CoverThis
First Dance Song: "Lullabies" by Yuna
Invitations: Zazzle, LCI Paper
Bride's Favorite Wedding Detail: "When I was growing up, my dad was in a band, and I always loved playing tambourine when he performed. So when it came to deciding what my bridesmaids' gifts would be I figured I had to make them handpainted monogrammed tambourines. When my dad's band was performing our song, 'Brown-Eyed Girl,' my sisters and I got to join him onstage and play our tambourines. This moment was special to me because it brought back so many memories of us doing this throughout our childhood, and I was glad we got to share that again at my wedding."
Groom's Favorite Wedding Detail: The wedding band. "They really took the time to customize their performance to what we liked off their playlist and additional songs that we had asked them to learn. My father-in-law also wanted to play at the wedding, and CoverThis worked with us to learn all of his songs as well as provide backup musicians to play his music. I was also able to jump in and play drums on a few songs, so it created an exciting atmosphere for our family and friends."
Biggest Surprise of the Wedding: Sunset at Sunset Crest Manor. "Arash and I had never been to the venue at night," says Kari. "As we sat down for dinner, the sun began to set where it created the most beautiful setting with orange and blue skies. The sunset made the venue surpass all of my expectations and made all the little details seem insignificant."
Decor Details: "The wedding was bicultural so we had a Persian ceremony mixed with American traditions. For our ceremony my mother-in-law made the most beautiful sofreh, which is a wedding spread that the couple sits in front of with offerings that symbolize light, sweetness, and blessings for our future. The sofreh was covered in white silk, with a beautiful mirror and candles and a bench that Arash and I sat at during our ceremony."
Vintage Furniture and Decor Rental: Vintage Affairs
Linens: La Tavola Linen. "I had rented the most amazing sequined tablecloths, including a sequined chevron linen. I was obsessed with these linens, and our whole wedding was planned around them," says Kari.
Wedding Theme: Vintage Glam
Four Words that Describe the Wedding: Rustic, glam, vintage, handmade
Honeymoon Spot: Brazil
Where the Couple Currently Live: Fairfax, VA